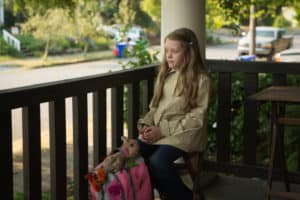 Grimm has often used crimes against children to bring different source material into the show. It makes sense, as children are the target for (and subject of) much of the material it adapts. That can help the smoothness of the adaptation; the fewer fundamental things you have to change, the easier it will be to modernize and insert into the show.
On the next episode of Grimm, Nick and Hank are on the hunt for an unstable father that reportedly took his daughter on the run with him, but the father might not be as big of a threat to her as somebody else lurking around. Could there be a bigger, badder Wesen that scared them into leaving town suddenly and without telling anyone? If so, will Nick even know how to take it out before it gets to the family?
Meanwhile on Grimm, Captain Renard continues to struggle to put his past back into the proverbial Pandora's box, as multiple women from his younger days show up in the episode. He's been trying to keep his distance from the royal family, particularly his brother, but who Renard once was and once hung out with show no signs of disappearing into the ether anytime soon.
Also, Monroe begins keeping watch over the spice shop now that Rosalee is out of town. He's already recovering from the traumatic events of last week and nursing a broken heart from not having Rosalee around, so you can only imagine that his mind is anywhere but the shelves at his back.
Grimm airs Fridays at 9:00 on NBC. You can check out my recap of the last episode here, as well as the TVOvermind Grimm discussion forum here.
How have you been enjoying Grimm this season? If Nick and Hank don't have to worry about the threat of the father, what do you think they'll have to worry about? How will Monroe handle running the spice shop without Rosalee?