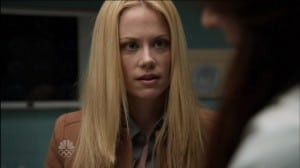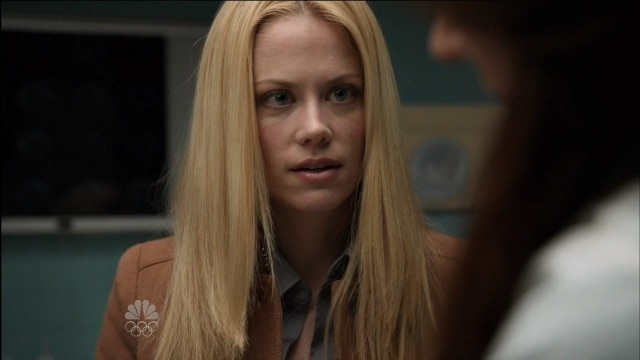 Adalind is in an interesting position on Grimm, as she's both very much in control of her destiny yet limited in what she can do as her next move. The pregnancy has tied her to the royal family and could be her ticket to, among other things, getting her powers back, but she has to be careful about playing Eric and Sean one another, lest she be caught in the crossfire. Fortunately, she has a window in which to put together her plan of attack and figure out what she's going to do, since the minute she gives birth, she'll be in danger from one brother or the other, in addition to the other royal families.
On the next episode of Grimm, Adalind has trekked to Europe to find Stefania Vaduva Popescu, the "Zigeunersprache" (or Queen of the Schwarzwald Gypsies) and someone who could be of great help to her. However, before any answers can be provided about the child's paternity, blood has to be drawn from the fetus – while Adalind remains awake. The Hexenbiest, who is also looking to restore the powers that Nick took away last season, is in a situation where she couldn't say no to Stefania if she tried, if not for her two strong sons holding her to the table than the desperate need for answers. Knowing who the child belongs to (and its genetic makeup) will help her decide how to proceed going forward, potentially saving her life in the process.
Elsewhere on Grimm, Nick has to keep a volcano from burying Portland in lava, while Juliette seeks help in her latest problem – multiple memories of Nick showing up everywhere.
Grimm airs Fridays at 9:00 on NBC. You can check out a recap of the most recent episode here.
Will the gypsy prove to be the ally that Adalind needed, either by restoring her powers or providing her with an answer as to the paternity of her child? How will Nick save Portland from the volcano and the Wesen threatening to have it erupt? What can Juliette do to further repair her memory and stop herself from being bombarded by all the memories of Nick?
http://www.youtube.com/watch?v=FGYZoUTgW4Q