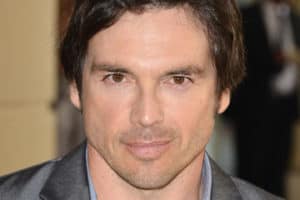 According to TVLine, another person with a connection to the Wesen will be appearing on Grimm later this season.
Jason Gedrick has signed on to play Craig Wendell, a murderer currently on his last days on death row. His defense at his trial was that the act was self-defense against the two monsters that attacked him, something that didn't hold water in court and made the man look mentally disturbed in addition to dangerously violent. However, now that Hank has been filled in about the Wesen and everything that Nick's been going through as a Grimm, it might not be too late to save the man from an untimely (and unjust) execution.
But can the two detectives find a loophole to let him go free without having to bring talk of monsters and shape-shifting into it?
In addition to Gedrick's upcoming role, which will feature in an episode this fall, Grimm will be bringing aboard Kate del Castillo as a detective helping Nick track a serial child abductor, Kristina Anapau as a secretary of a mysterious Wesen church, and Michael Grant Terry as an intern at Portland PD that takes a liking to Nick, among others.
Gedrick, who might be best known for his role as Officer Tom Turcotte on NBC's Boomtown, has been a series regular on the likes of Luck, Windfall, and Murder One, while appearing on Desperate Housewives, Necessary Roughness, and Lie to Me. He can next be seen on the seventh season of Dexter, set to premiere this Sunday on Showtime.
Grimm returns Friday, September 28th at 9:00 on NBC. You can check out my recap of the most recent episode here, as well as the TVOvermind Grimm discussion forum here.
After his recent experiences with the Wesen, do you think that Hank will believe Craig? What kind of Wesen do you think attacked Craig? Are there any other actors that you'd like to see make a guest appearance on Grimm?