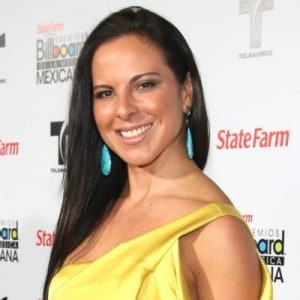 According to The Hollywood Reporter, the Halloween episode of NBC's Grimm has just added a dash of beauty in midst of all the chaos.
Kate del Castillo has signed on to appear on the supernatural procedural as Detective Valentina Marquez, who comes to Portland when the child abductor she's been tracking for years comes onto Nick and Hank's radar. The episode will reportedly be based on La Llorona ("The Weeping Woman"), a Mexican legend about a woman named Maria killing her children to be with a man. However, he rejects her and she commits suicide, ultimately spending the rest of eternity wandering the Earth in search of her children as punishment for her actions.
The actress joins an already strong slate of guest stars for Grimm, which has already attracted a plethora of quality appearances in its first 26 episodes. John Pyper-Ferguson (Alphas), Mark Pellegrino (Lost), and Maddie Hasson (The Finder) have thus far appeared on the second season, while Michael Grant Terry (Bones), Kristina Anapau (Black Swan), and Alice Evans (The Vampire Diaries) will be popping up later in the season.
del Castillo, who appeared on the fifth season of Weeds as Pilar, has previously guest starred on the likes of The Cleaner and CSI: Miami, while maintaining a strong presence in the world of telenovelas. Her role as Teresa Mendoza on La Reina del Sur earned the actress a Premios tu mundo nomination, in addition to a People en Espanol award and the Diosa de Plata Dolores del Río award.
Grimm recently wrapped a four-episode run on Monday nights. The next all-new episode will be airing on Friday, September 28th at 9:00 on NBC. You can check out my recap of the most recent episode here, as well as the TVOvermind Grimm discussion forum here.
What do you think of NBC's strategy to air four episodes of Grimm and then wait to air the rest? Do you think that Grimm can make a quality Halloween episode? Who's been your favorite guest star in the show's run thus far?