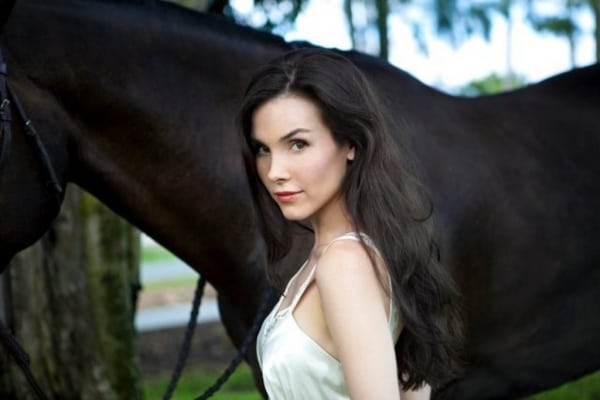 According to TVLine, Grimm will be heading from the forest to the pulpit in an upcoming episode that will feature Kristina Anapau (True Blood). The actress will be playing the meek secretary of a Wesen church that has been carrying on an affair with the reverend; when not taking phone calls and booking socials, the character will be a Seelengut, a sheep-like creature whose name translates to "kind-hearted". Her episode will be airing on September 10th.
Anapau joins a growing list of guest stars for the supernatural procedural, which is two episodes into its second season after debuting on the heels of the Olympics. Mark Pellegrino (Lost), John Pyper-Ferguson (Alphas), and Maddie Hasson (The Finder) will be appearing on the next episode, which will find Hank's old high school friend coming to town needing help with a personal matter. Additionally, Michael Grant Terry (Bones) and Alice Evans (The Vampire Diaries) will be recurring later in the season.
Most recently, Anapau appeared as fairy Maurella in True Blood, with additional guest roles coming in the likes of The Glades, Monk, and Without a Trace. She's perhaps best known for her performance as Galina in 2010's Black Swan.
Grimm airs Mondays at 10:00 on NBC, with repeats coming the following Friday at 9:00. You can check out a preview for the next episode here, as well as my thoughts on "The Kiss" here and spoilers for the next couple of episodes here.
To chat about the Grimm-verse and the challenges that lay before Detective Nick Burkhardt, head over to the TVOvermind Grimm discussion forum.