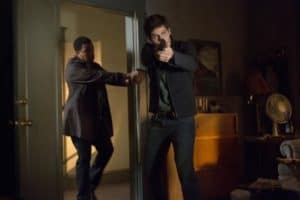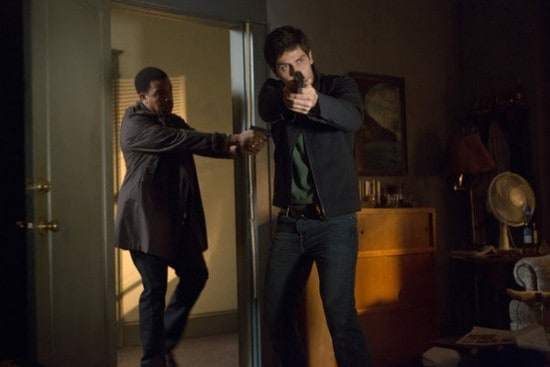 Nick is still getting used to the idea of not doing things completely on his own on Grimm. While he's been tight with Monroe since season one, the Blutbad proving to be an invaluable asset to the Grimm, he tended to be left to his own devices once he stepped into the Portland PD precinct. He had to keep his true identity to himself and avoid being detected by Captain Renard, but now that Hexenbiest proposed a mutually beneficial truce, how will Nick react to working with him rather than against him?
On the next episode of Grimm, Nick, Hank, Renard, and Wu are looking into a mysterious killer that has seemed to target a video game company and has left behind a series of clues in his wake. Among them are a trio of fantasy novels with words written on the cover, leading Nick to question whether or not they're finally dealing with a human psychopath rather than another Wesen murderer. The Wesen criminals that he's been nabbing and battling since the beginning of the series have been decidedly more aggressive and less likely to intentionally taunt the police, for fear of their identity being detected or having to face the Grimm one on one. Now, though, it looks like Nick might be facing one of the smarter Wesen he's encountered in his time as a Grimm, only he has a strong team behind him that wasn't there in his early days of hunting. Have Nick's Grimm skills improved enough to where he's ready to face the next level of competition?
Elsewhere on Grimm, Juliette's hallucinations begin to take shape, giving them a whole new meaning. Will she get closer to figuring out what happened the night she was scratched by Adalind's cat?
Grimm airs Fridays at 9:00 on NBC. You can check out a recap of the most recent episode here.
http://www.youtube.com/watch?v=CLXcr3lAeMU