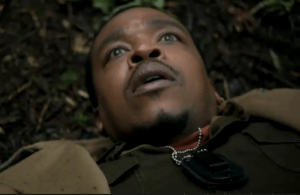 For much of the first season of Grimm, Hank was left in the dark about all the supernatural things going on around him. The creatures, the hunters, the deaths that looked to be unexplainable – none of it had entered his consciousness, likely due to fear of the unknown and general human logic. But once Hank (literally) ran into Monroe-as-Blutbad and saw another Wesen going through their transformation, things got much less clear-cut. Once a very black-and-white thinker, Hank was suddenly touched by a case of paranoia. If there were these…things running around all this time without him knowing, what else could be going on?
On the next episode of Grimm, titled "Bad Moon Rising", Hank might just be getting the dose of the truth that he has been longing for since late last season. When a type of aggressive, bullying Wesen known as a coyotl comes to Portland, one of their human forms is as an old high school friend of Hank's looking to seek help in the case of his missing daughter. Hank may have had run-ins with Wesen before, though he doesn't know any details about what they are, where they came from, or what type of danger they pose, but he's never had to deal with them being that close to home. Can Nick keep Hank away from the Wesen part of his friend long enough to solve the case or is Hank about to get a lesson in all things that go bump in the night?
Grimm airs Mondays at 10:00 on NBC, with repeats of that week's episode airing Fridays at 9:00. You can check out an additional preview of the next episode here, as well as my thoughts on the previous episode here and the TVOvermind Grimm discussion forum here.
Would it be the best thing for Nick to fill Hank in on what's really been going on recently? If Hank were to find out in the near future, how do you think he would react? Can Nick continue (feasibly) lying to Hank about everything without him catching on?