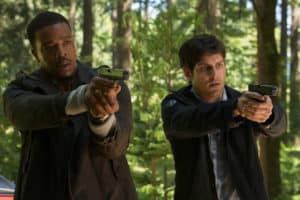 Juliette and Monroe might be one of the most unlikely pairings that Grimm could have brought together this season. It's not that the two have something against one another or can't be in the same room without something going wrong – it's just that Monroe has helped Juliette's boyfriend/almost fiancee slay all types of dangerous beasts and Juliette…well, doesn't know about any of that. There's an underlying tension to their interactions, with one false move from Monroe possibly resulting in Nick's secret being blown wide open.
On the next episode of Grimm, titled "Quill", the two are once again communicating, only this time Nick isn't there as some type of intermediary. Rather, Juliette initiated the contact in hopes of finding out about the status of her relationship with Nick at the time of the coma. Her memory of Nick doesn't seem to be returning and likely won't be doing so, unless Nick, Monroe, and Rosalee conjure up another potion to reverse the lasting effects of Adalind's spell or find a creature in the Wesen world that can. It'll be interesting to see what'll happen to Juliette's budding friendship with Monroe once her memory does return. They were very civil/cordial in the couple of times they interacted pre-coma, but considering how Monroe's been one of the few people that she's been able to lean on since awakening, maybe their friendship will be that much stronger once the spell is reversed.
Grimm airs Mondays at 10:00 on NBC, with the episode repeating the corresponding Friday at 9:00. You can check out another sneak peek from the next episode here, as well as my recap of the most recent episode here and the TVOvermind Grimm discussion forum here.
How do you think Juliette will regain her memory? Would you like to see her friendship with Monroe continue once her memory returns? How would Nick feel about his two worlds becoming that close?