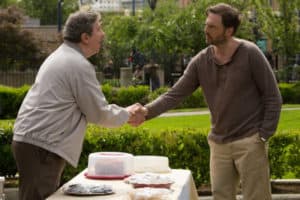 Monroe has always been a fairly unusual character in the Grimm-verse. Even putting aside the clocks, the Pilates, and the VW Bug, the fact that a Wesen like him would actively try to suppress their abilities is a pretty big deal. Monroe still breaks out the blutbad within from time to time, but for the most part, he keeps that part of himself locked inside and controlled through his lifestyle choices. Thus far on Grimm, the vast majority of Wesen that we've encountered bask in their power; could Monroe not be alone in learning how to handle his?
That's the question on the next episode of Grimm, which finds Nick suspicious of a local reverend that claims to be a reformed blutbad. With an actual reformed blutbad on his team, Detective Burkhardt has an opportunity to infiltrate the church that the reverend leads and get information on the validity of the holy man – if Monroe will agree to it. Reverend Calvin could be dangerous and they have to find a way to neutralize that threat, Nick not being able to head into a Wesen church unnoticed. Monroe has already been an asset due to his knowledge of the Wesen world and seemingly unending loyalty, but perhaps the biggest pro of having him as a partner is that he can get Nick closer to the Wesen that pretty much anybody could.
In the world of Grimm, it takes a reformed blutbad to know a reformed blutbad and judging by the sneak peek below, I think we might have a wolf in the henhouse. Or, more literally, I think we might have a wolf in the pulpit.
Grimm airs Friday at 9:00 on NBC. You can check out the TVOvermind Grimm discussion forum here.
Are you ready for more Grimm following another hiatus? Just how deep will Monroe be able to go intothe underbelly of this Wesen church? Is the reverend fully reformed or is there evil lurking within him, just waiting to come out?