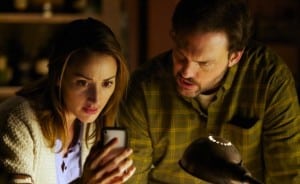 Monroe and Rosalee have been endearingly old-fashioned in their slow burn of a courtship. Ever since the latter assumed control of her murdered brother's spice shop, the two have made it obvious they're interested in one another, but they've yet to really act on it. Outside of a few exchanged smiles, a whole lot of time spent together, and Monroe growing protective over the newest member of the Grimm team, there hasn't been that much progress on the relationship front.
Granted, it's pretty understandable, considering they have to do battle with reapers, royals, and plain ol' regular joe Wesen on a weekly basis. Fearing for your life doesn't exactly lend itself to romance, but on the next episode of Grimm, titled "Quill", they manage to find a little quiet time together. After a pretty eventful picnic together that was disrupted by a disease-carrying creature that staggered out of the woods, Monroe and Rosalee are finally alone…together…in the spice shop. And all the tension, all the unaddressed feelings between the two come out in a kiss, initiated by Rosalee.
It's hard to find love in the world of Grimm – thus far in the show's run, no relationship has been unbothered, with memory loss, blackmail, and death hitting many couples that we've ran into. For Monroe and Rosalee to start something real is to open themselves up to the chaos and destruction that's currently filling Portland to the brim. But honestly, to have someone that truly cares about you might make that risk completely worth it.
Grimm airs Monday at 10:00 on NBC, with the episode repeating in the show's regular Friday at 9:00 time slot. You can check out my recap of the most recent episode here, as well as the TVOvermind Grimm discussion forum here.
Do you think that Monroe and Rosalee can build something real, given the situation they're on? What will Nick have to say about the recent developments between the two? Can Rosalee figure out some type of liquid to give Juliette to fully reverse the effects of Adalind's spell?
[FLOWPLAYER=http://www.tvovermind.com/wp-content/uploads/2012/08/grimm-204.jpg|http://www.tvovermind.com/wp-content/uploads/2012/08/grimm-quill-Grimm_EPS204_Clip_01.flv,400,300]