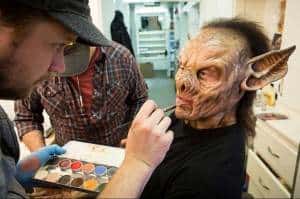 Grimm's visual prowess was one of the strongest elements of its promising first season. Whether it be from detailed props, moody lighting, or impressive makeup, the show tended to execute its vision for a world where monsters ran amongst us quite well. And now, we get a little look at what goes into creating the ambiance that made the show one of the most distinct newbies last season.
In a series of videos, the show's creative team is given the spotlight and the result is a better understanding about their intentions on specific episodes last season. For example, the only color in Aunt Marie's book is in the eyes of the blutbad and a weapon in "Bee-ware" contained Jules Verne influence, with the stunt work becoming a little more complex with the evolution of Detective Nick Burkhardt. Once given a little more attention, the details of the process (the prop Monroe heads, the drawings of children in a snake's stomach) become a little macabre, but Grimm works best with a core of darkness at the center each creative decision.
With promises of bigger and better in the upcoming season, the Grimm creative team look like they'll continue being the show's backbone for a time to come.
The second season of Grimm premieres Monday, August 13th at 10:00, with a move back to its regular time slot coming on Friday, September 14th at 9:00. You can check out the rest of NBC's fall premiere dates here, as well as the new Grimm eBook, spoilers for the upcoming season, and an additional preview for the premiere here, here, and here.
What was your favorite Wesen that Nick came across in the first season? Did he have a prop that you really took to? What would you like to see the second season of Grimm add that season one didn't have?