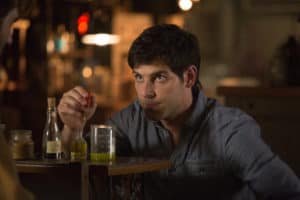 One of the major themes of Grimm is that try as you might, there's no running away from your past. You can attempt to distance yourself from it, mentally and/or physically, but there will always be remnants of your former experiences lurking out in the ether. Be it a person, a place, or continued whispers of a memorable event, the past is something that you have to reconcile yourself with once and for all if you have any hope of finding happiness. Coming up on Grimm, we'll be seeing a familiar face from the early part of season one pop back up with bad news in tow, while a character will have someone from their past arrive in Portland for the first time and Nick will be working a case of a man on the run with his daughter.
Below are the dates, episode names, and episode descriptions for the next two episodes of Grimm.
Friday, October 5th – "Over My Dead Body"
Angelina (guest star Jaime Ray Newman) comes back in to town with bad tidings as Monroe (Silas Weir Mitchell) learns his continued cooperation with the Grimm may come at a high cost. Nick (David Giuntoli) comes to Hank (Russell Hornsby) for help to keep Monroe safe and Hank uses this time to get caught up with his knowledge of the "Wesen world." Meanwhile, an old European acquaintance (guest star Alice Evans) pays Captain Renard (Sasha Roiz) a visit, but it's hard to tell if this visit is for business or pleasure.
Friday, October 12th – "The Bottle Imp"
After investigating a grisly murder, clues lead Nick and Hank to a seemingly unstable father (guest star Josh Stewart) who is on the run with his daughter. As they learn more about the case they realize that the girl's father may be the least of their worries. At the spice shop, Monroe finds out filling in for Rosalee (Bree Turner) isn't as simple as he'd hoped it would be. Meanwhile, Captain Renard finds himself paying unwarranted attention to more than one woman from his past.
Grimm airs Fridays at 9:00 on NBC. You can check out the TVOvermind Grimm discussion forum here, as well as remind yourself of Angelina's first appearance here.
How do you think Monroe will doing filling in for Rosalee at the spice shop? What are the intentions of Renard's acquaintance that comes to town? Are you surprised that Hank has seemingly embraced the idea/existence of Wesen?