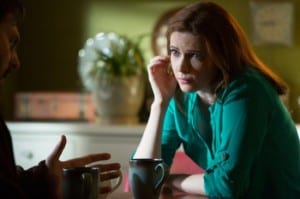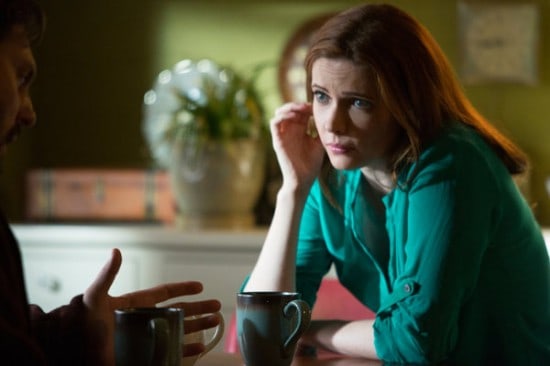 Juliette has spent this season of Grimm being haunted by memories. After being scratched by Adalind's cat and waking up from her coma by a kiss from Renard, she's had to piece together her relationship with Nick and what happened the night of the incident. It's the one thing she can't quite place and now that it's led to him moving out, she finds herself more motivated than ever to fix her memory and get him back. But is it too late?
Listed below are the dates, titles, and descriptions of the first three spring episodes of Grimm.
Friday, March 8th – "Face Off"
After Nick (David Giuntoli) learns about Juliette (Bitsie Tulloch) and Captain Renard (Sasha Roiz), he must deal with the consequences. Things get even more complicated when Nick is called to investigate his own crime. Meanwhile, the search for the key intensifies as Captain Renard finds Nick's trailer and makes a surprising alliance. With Rosalee's (Bree Turner) help, Monroe (Silas Weir Mitchell) informs Nick that they might be able to stop what's going on with Renard and Juliette before it goes too far. Elsewhere, Wu (Reggie Lee) responds to a bizarre shooting at Nick and Juliette's house.
Friday, March 15th – "Natural Born Wesen"
The Wesen code of honor comes into question when Nick, Hank (Russell Hornsby), and Monroe discover a series of bank robberies with Wesen using true natures as their disguises. Meanwhile, Juliette finds herself tormented by faint, slowly returning memories that cause her to question her mental state.
Friday, March 22nd – "Mr. Sandman"
When a mysterious case of sudden blindness causes a woman's death, Nick and Hank come across a disturbing Wesen that feeds off its victim's tears. Meanwhile, Adalind (Claire Coffee) contemplates the significance of her new situation, while Juliette continues to work with Rosalee in an effort to fix her memory.
Grimm airs Fridays at 9:00 on NBC. You can check out previews from the spring run of episodes here and here, as well as the Grimm Bad Hair Day web series on the next page.
What are you expecting from the rest of this season of Grimm? When will Juliette get her memory back? Are there any fairy tales that you'd like for them to cover?