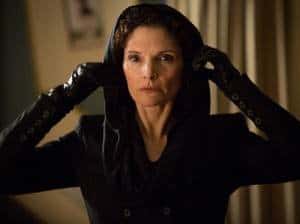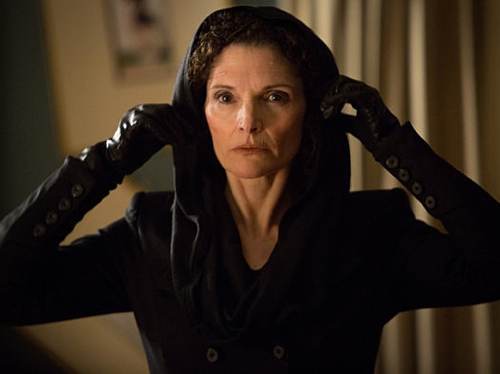 Don't look now, but the second season premiere of Grimm is less than a week away. When last we left the NBC hit, Nick's mother had finally come out of the shadows after years of being presumed dead, Juliette became the latest victim of Adalind's witchcraft and fell into a coma (of sorts), Hank's trauma from being exposed to the Wesen world had left him increasingly paranoid, and the noose around Nick's neck was slowly being tightened by the Wesen royals, including Captain Renard. The action, drama, and supernatural had all been ratcheted up in the final few episodes of the season, leading to a major cliffhanger and a predicament that not even the most vicious Grimm could get out of unscathed.
But what happens next?
Listed below are the dates/times, episode names, and episode descriptions for the first two episodes of the second season of Grimm.
Monday, August 13th – 10:00 p.m.
"Bad Teeth"
After their face-off with Kimura (guest star Brian Tee), Nick (David Giuntoli) finds himself trying to come to grips with the return of his mother, Kelly Burkhardt (guest star Mary Elizabeth Mastrantonio). A trail of brutal murders unveils a foreign conspiracy to hunt down Nick, leading to several revelations about his past. Meanwhile, Juliette (Bitsie Tulloch) still lies in her mysteriously-induced coma as Rosalee (Bree Turner) and Monroe (Silas Weir Mitchell) work tirelessly to bring her out of it safely. Elsewhere, Hank (Russell Hornsby) struggles with the shocking truths he's recently seen and Captain Renard (Sasha Roiz) deals with unexpected family issues when his estranged brother (guest star James Frain) comes back into his life. Reggie Lee also stars.
Monday, August 20th – 10:00 p.m.
"The Kiss"
As Nick and his mother continue to battle the Mauvais Dentes (guest star Mike Dopud), Monroe and Rosalee fight against the clock to save Juliette. More details are revealed about the source of Juliette's illness, resulting in an epic showdown. Back at the precinct, Hank senses that something is amiss when Nick lands in hot water with the FBI. Meanwhile, Captain Renard continues to reveal himself as he deals with his estranged brother.
Grimm will be airing three episodes in its Mondays at 10:00 time slot before moving back to its Friday home on September 14th. To catch up on all the latest from the Grimm-verse, including a first look at next season, a picture of the villain from the season premiere, and a handful of additional spoilers, you can check out the Grimm tag here at TVOvermind.
How do you think the first two episodes sound? What kind of revelations from the past do you think Nick will have to deal with? Just how dangerous is Captain Renard?