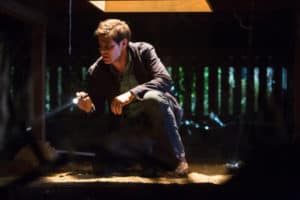 Seven years ago, Hank was involved in a case of Craig Ferren, a man who shot a pair of brothers – one lived and one died. The man claimed that he was practicing self-defense against "monsters" and that the brothers were cannibals, but there was no evidence to corroborate his claims and once Hank testifies against him, Ferren gets sent to death row.
His execution is now only 36 hours away and Hank begins to feel guilty upon reading about it in the paper, particularly due to the fact that he knows monsters exist. He gets Nick to help him dig into Ferren's case by first going to talk to Monique Dyson, Craig's girlfriend. She tells the detectives about how he came home from the war in Iraq a different person, suffering from post-traumatic stress disorder and chasing the medication he was prescribed for it with alcohol. When he was convicted and put in jail, though, he had begun to get his life back on track; Nick and Hank then go to the public defender that represented Ferren who shows them drawings that his former client made of the monsters he claimed to see. The judge, however, didn't let him submit them as evidence, due to the psych evaluation revealing that Ferren knew the difference between right and wrong.
The creature that he had been seeing was the Wendigo, a cannibalistic Wesen with breath of burning flesh that buried the remains of its kills in its lair. When Nick and Hank go to the prison that Ferren's being held at, they inform him that they believe him, even though he tries to recant and get them to leave him alone. Ferren does tell them about the night of the incident, where the brothers (Miles and John) got him to come over to fix their sink. While there, they tell him that they want to have him for dinner and when he tried to leave, they revealed their needle-like teeth, yellow eyes and twisted lips.
Nick and Hank want to get a warrant to bust up a local marketplace, where the brothers' house once stood and where there might be bodies, but the DA won't let them do that due to the amount of attention that it'd receive and the fact that admitting a mistake would damage her Mayoral campaign. Instead, they decide to find the surviving brother, but he has a very clean record and hasn't updated his contact information in quite a while. However, the two find a pattern in that there are slightly more missing people in the areas he lived around the time he lived in them, with his current home (and work) being in nearby Forest Grove. John works at a building supply store and though he initially refuses to answer any questions, Hank provokes him to lash out, confirm his Wesen ability, and proclaim that Ferren is the real monster.
Nick and Hank go to John's home in order to find any bodies or traces of cannibalism, coming across a cracked kitchen floor with scratches from a refrigerator being moved many a time. Once they get it out of the way, they come across a crawl space where the pit of bones is buried. Just then, John comes home and attacks Hank in the kitchen before running off into the fields. Nick makes it out of the crawl space and fights John, who doubled back into the house while Hank wanders around outside, before crashing through the window. Hank shoots John in self-defense, as the Wendigo came at home once he landed after falling through the window with Nick.
Nick had managed to get ahold of the DA while all this was going on, the scuffle when John attacked him enough to get her to call the governor, who calls for a stay of execution on Ferren. He'll be granted another trial due to the new evidence found in John's home (and the market) and maybe, just maybe, he'll get the verdict that he should have gotten all those years ago.
Can't Get You Outta My Head
Both Renard and Juliette are still have difficulties with the fact that they're obsessing over the other one. While Renard tries to drink the thoughts away, Juliette talks to a friend about what's been happening and the fact that she doesn't feel like she knows Nick well enough to love him. She might not know Renard any better, but that's not stopped her from kissing him back last week and continuing to dream about him quite frequently. Later that day, Renard slips and calls Juliette while he's at the office and talks to her about the other night, claiming the entire thing to be a big mistake. She wants to not see one another again, but he tells her that that won't work and to meet him at a shop on Fulton – Rosalee's spice shop, to be exact.
If Juliette didn't agree before, she would have agreed following her conversation with Nick that night about her memory from before the coma. All that Juliette remembers is being at Monroe's – nothing about what Nick told her still lingers in her mind. He wants to tell her about the cat and why she fell into the coma, but he tells her that she wouldn't understand, upsetting her and driving them farther apart. The next day, she goes with Renard to the shop and the two can't keep their hands off of one another, Monroe walking in on them nearly climbing on top of one another in a fit of passion.
Additional thoughts and observations:
-Jeffrey Dahmer was apparently a Wendigo. Because of course he was.
-Next week on Grimm: It's the fall finale and everything's going to hell. Adalind returns to avenge her mother's death, Renard's obsession with Juliette continues, and there's a surprise visitor at the spice shop.