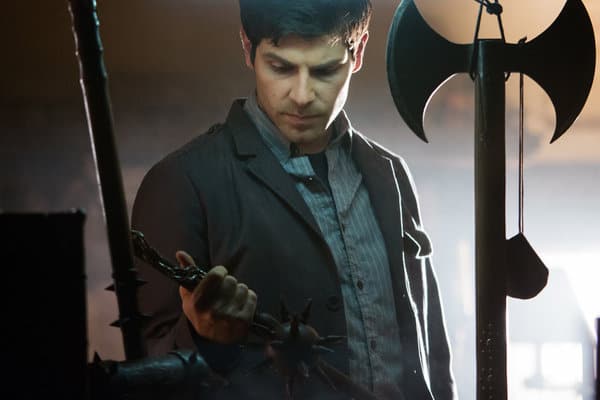 For its Halloween episode, Grimm decided to double down on the police investigation and forego any advance of the multitude of subplots it's currently carrying. Was that style, reminiscent of early season one, a wise move or will it ultimately stall any type of forward momentum that the show had built up?
The Weeping Woman
A little boy and his father are out fishing for the day when they see a woman crying and walking out into the water. The father goes to save her from potentially drowning, but when he gets to where she was, she had disappeared, only to reappear on land and lead his 8-year-old son Rafael away. Luckily, there was a cell phone camera that caught footage of the woman, a middle-aged brunette in an all-white gown, as the father (Luis) didn't have many details to add that would help find the police whoever took Rafael.
Juliette gets called into the investigation by Nick to help with the language barriers, as Luis had poor English skills and no one on the force that spoke Spanish was available to come in. After talking to the irate father in the interrogation room, Juliette came with Nick and Hank to Luis' family home, where a female member of Rafael's family declared that she knew who took the child – La Llorona. The legend of La Llorona has gone under many edits and interpretations through the years, but the main thing to know is that it tells of a woman who killed her children and now wanders the planet looking for them, a punishment that will keep her from finding any type of peace in the after life.
Typically, La Llorona takes three children in her quest – all 7-10 years old with two boys and one girl. Luckily for Nick and Hank, they have help on the case in the form of Valentina Espinosa, a detective from Albuquerque that had been tracking the recent string of child abductions for 5 years who is also a Balam (a purple tiger-like Wesen). Valentina informs them about certain patterns that La Llorona had exhibited in the past, i.e. choosing victims from certain sides of the river and leaving bodies down river from where they were abducted/left, but Renard doesn't trust her and has someone dig up information from her files.
After having taken Rafael, La Llorona finds her next victim in the form of Kalli, a little girl dressed in a gold princess costume that hears the woman crying at the edge of the river. Kalli had been participating in a Halloween activity (that looked like a "haunted walk" of sorts, with adults popping out of the bushes/from behind trees to scare the group of children), though she crept away from the forest and took La Llorona's hand without much of a problem. The ghost took her to a nearby cabin that she had been storing Rafael, who remarked that she's an angel.
Once it was discovered that the second victim had been abducted, Wu gets a phone call and heads out, informing Juliette that Rafael hadn't been found but that the same person that took him struck again. Learning this greatly upsets Luis, who reacts strongly to the medium, throwing a teapot against the wall out of frustration. The medium had previously talked to Juliette about her cat scratches, which the older woman said came from a sick cat, and this time, she nails the vet's mental state, alluding to a choice that she'll have to make in the future (of Renard or Nick).
It was discovered that Valentina had been thrown off the force in Albuquerque three years ago for getting too obsessed with the case of La Llorona; the ghost had struck her close to him by taking her sister's child five years ago, Valentina being the one that tried to "save her" from drowning. Though she gets put into custody and taken to the station, awaiting word from the FBI, Nick and Hank spring her when they need help bringing La Llorona in. They had went to Aunt Marie's trailer to try to find information on the ghost, coming across a journal entry that implied that she had killed a member of Nick's family many years prior. (La Llorona had been traced back to the year 1519.) Not long after they set Valentina free, they learn that La Llorona had gotten her third victim, a boy named Tino, and they had until midnight to stop her before the children disappeared for good.
The ghost would be taking the children to the place where the two rivers converged; once she has all three in front of the water, the spirits of her dead children rise from the water, only to submerge again once Nick, Valentina, and Hank came running. While Hank and Valentina tended to the kids, Nick tackled La Llorona and took her underwater, where he still tried to fight (and choke) her. However, once he came up for air, she attempted to bring him back down with her; the entire time, she had let her "real" face show, a rotting mound of flesh with red eyes, only to turn back into her human form and disappear while under the water, it being a minute after midnight on All Soul's Eve.
The children are reunited with their parents later that night at the station, while Valentina will not have to face charges from the FBI and Hank has to try to process the existence of ghosts in an already scary Grimm-verse.
Trick or Treat…or Trick
Nick brings a mace to Monroe's house, which is decorated to the nines for Halloween. There's not an inch of the blutbad's front yard, porch, or house interior that isn't covered by some type of pumpkin, spider, or various holiday paraphernalia. The mace is for a porch decoration that will smash a pumpkin before each group of trick or treaters come to the door; Monroe has a control inside the house to let him operate the decoration (a skeleton knight) without having to be visible to the children.
Dressed as a skeleton himself, Monroe has a good time with the first group of kids that night, though he notices that a little girl dressed as a witch is getting bullied out of her candy by a group of three older boys. He catches them in the act and makes them give it back to her, embarrassing them in the process. The three boys wait until later that night to get their revenge, turning the pumpkin destroying decoration toward the window of the house and getting it to slam the weapon into the glass, breaking the window in the process. They filmed the action on a phone and were laughing at what they did to Monroe…until he tracked them down, took the phone away from them, and woged, sending them running into the distance screaming. Monroe had told Nick that he longed for the days of scaring villagers with a midnight woge on Halloween, but I think this will be a suitable substitute this year.
Additional thoughts and observations:
-I really liked the source material this time, although the cliche "Latin woman that has supernatural abilities" touch in Rafael's family was a bit much.
-Another awkward interaction between Juliette and Renard. No conversation between the two, but something has to break eventually.
-A Balam is a three-headed demon that resides over Hell, so I don't know why it's also the name of a purple tiger.
–Next week on Grimm: Another Grimm is discovered in Portland and he might not be as friendly to the Wesen as Nick is.