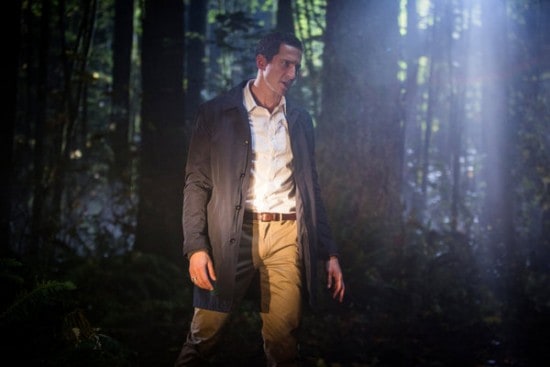 Last week on Grimm, Captain Renard and Nick agreed to work together to keep the key away from Adalind and Eric, as the Hexenbiest or the royal gaining possession would mean the end of the Grimm and the captain. It was a surprising move from Renard and one that Nick is still struggling to understand, even days after the fact. Can he really trust his boss with something as important as the key? Or does Renard have something else in mind for his newfound alliance with the Grimm?
On the next episode of Grimm, Nick, Hank, Rosalee, and Monroe are trying to figure out why Renard is so interested in joining forces with Nick. Rosalee figures that Renard's lineage (half Hexenbiest, half royal) could influence him to seek out Nick as a weapon to use against his family, but there's no way that anyone of them could know for sure without further investigation. If Renard has no ill intent toward Nick and the rest of the group, he could prove to be a strong asset, someone who could dole out an even better understanding of the Wesen world and the royal families that control it. However, Nick can't afford to let his guard down right now and for the time being, he's going to have to hold Renard at arm's length.
At least until his team does enough research to welcome him into the fold.
Elsewhere on Grimm, Nick and Hank investigate a Wesen that feeds off the tears of its victim, while Adalind contemplates the significance of her new situation and Juliette continues working with Rosalee on restoring her memory.
Grimm airs Fridays at 9:00 on NBC. You can check out a recap of the most recent episode here.
Why do you think Captain Renard really wants to work with Nick? Should Nick have accepted the offer? Will getting to know more about the royal family help decipher Renard's true motives?
http://www.youtube.com/watch?v=C5Oo0M9mtGI