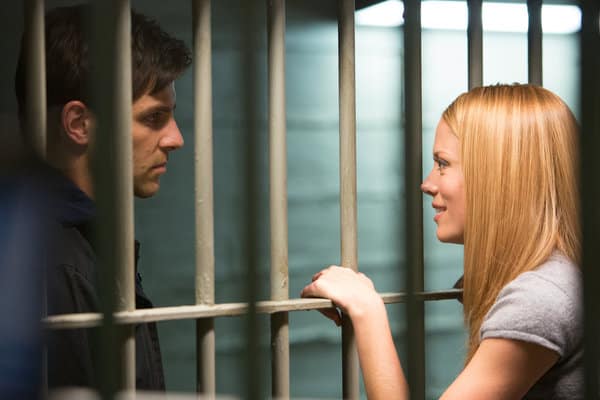 Once Adalind lost her power last season on Grimm, you had to wonder where she'd go from there. We hadn't seen that Wesen could be stripped of their abilities, so it was completely new territory for the show to explore. Add in the fact that Nick was the one that returned her to human form and there was another layer that could be peeled back when the time was right. How does a Wesen get revenge without being able to woge?
Tonight on Grimm, it looks like the Hexenbiest has gotten her power (and subsequently, her confidence) back, which is not good news for anyone in Nick Burkhardt's orbit. With the death of her mother, Adalind is bound and determined to get to the Grimm and inflict the same type of pain on him that he has on her; to do that, she'll be stirring things up with everyone around him in order to send the message that he's running out of time. In the sneak peeks from the next episode of Grimm (below), we see that she pays visits to Juliette, Hank, and Renard, all three to mixed results; she sends Hank to the hospital and likely tries to talk Juliette into dumping Nick, but she blackmails Renard out of desire for the key that Nick has. If he doesn't comply, she'll go to the Grimm and tell him everything that Renard knows and who the Captain actually is, but what'll happen once she has what she wants?
And is a visit to Monroe forthcoming?
The fall finale of Grimm airs Friday at 9:00 on NBC. You can check out a recap of the most recent episode here, as well as the TVOvermind Grimm discussion forum here.
Do you think that Adalind's plan to blackmail Renard and get the key from Nick will succeed? If it does, will Nick and company be able to get the key back before it's too late? If it doesn't, will she try again once the show returns in January?
http://www.youtube.com/watch?v=KlNIV16ViZ0
http://www.youtube.com/watch?v=hoTVAf2zD7U
http://www.youtube.com/watch?v=vx8_n0ngIpE