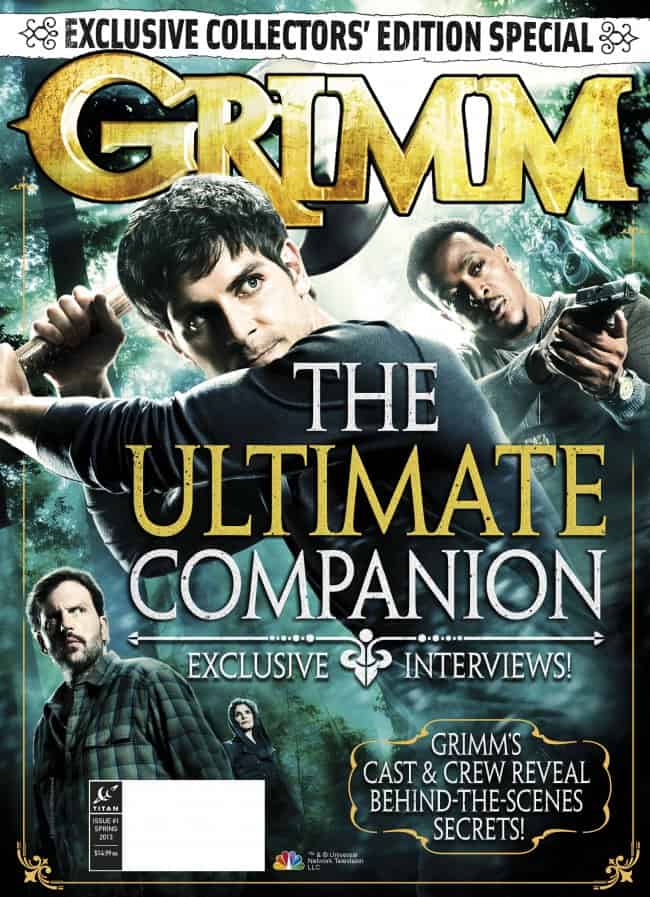 Last fall, NBC's Grimm became one of the surprise hits of the season, overcoming a Friday timeslot and developing a loyal following almost immediately. The show followed Portland Detective Nick Burkhardt, a seemingly normal man with a seemingly normal life – he had a live-in girlfriend, a friendly relationship with his partner, and a job that he enjoyed and did well at. That was all before his aunt came to town and let him know that he was descended from a long line of Grimms, hunters put in charge of keeping the balance between humanity and mythological creatures of the world known as Wesen.
This season, Nick has become more comfortable with his role as a Grimm, though the deeper he dives into Wesen mythology and the true underpinning of the Grimm world, the more he realizes that he might be in more danger than he thought. To help parse out the intricate world that Grimm has developed over the last 35 episodes (and counting!), Titan Magazines has issued Grimm Magazine, a comprehensive look at the world developed by Stephen Carpenter, David Greenwalt, and Jim Kouf. In its 148 pages, Grimm Magazine features exclusive interviews with the cast, as well as insight from the producers regarding the direction the show will be heading and secrets straight from the writers of one of NBC's most popular scripted shows.
Additionally, the first issue (available here) features a look at what it takes to create the distinct look that Grimm has managed to hone during its season-and-a-half, including information about those responsible for the show's special effects, costuming, stunts, and production design. The first issue is now available on newsstands and in specialty comic book stores in the U.S., and will be available in the U.K. on March 21 and Australia & New Zealand on April 27. The second issue will be released this summer.
Grimm airs Fridays at 9:00 on NBC. You can check out a recap of the most recent episode here.
What have you thought about the second season of Grimm thus far? How has having a strong team behind him helped Nick's assimilation into the Wesen world? Will the alliances formed in the spring premiere blow up before the end of the season?