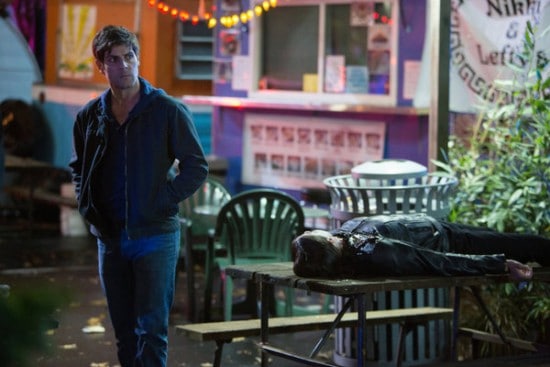 When Rosalee came back from taking care of her sick aunt last week on Grimm, all the answers began falling into place. She connected the spell over Juliette to the obsessive infatuation with Captain Renard, finding the cure for their dangerous bond in the spice shop and helping Nick take a major step toward getting the love of his life back. It was a refreshing sight to see someone with a heavy knowledge of Wesen chemistry and all that lies within the shop leading the charge, but is there such a thing as knowing too much when it comes to the Wesen?
On the next episode of Grimm, there's been a string of bank robberies committed by Wesen using their true identities as disguises. For now, the media seems content to report that the robbers were wearing animal masks, but that's not stopping the local Wesen community from pouring into the spice shop demanding in a panic. They're used to having Rosalee's brother there to offer them a quick remedy or information about the latest Wesen news, so it's quite a change to have to deal with someone they don't know, especially on a day when their world could come crashing down due to the actions of a select group. Can Rosalee and Monroe manage to calm everyone down long enough for Nick to catch those responsible and reduce the robberies to a tiny footnote?
Elsewhere on Grimm, Juliette's memory has slowly began to recovery, but she's still haunted by thoughts that make her question her mental state.
Grimm airs Fridays at 9:00 on NBC. You can check out a recap of the most recent episode here, as well as spoilers for the next two episodes here.
Will we see Juliette return to normal by the end of the season? How will Nick, Monroe, Hank, and Rosalee help catch the bank robbers? Is there a chance that other Wesen will be exposed as a result of the robberies?
http://www.youtube.com/watch?v=FD94YakiE44