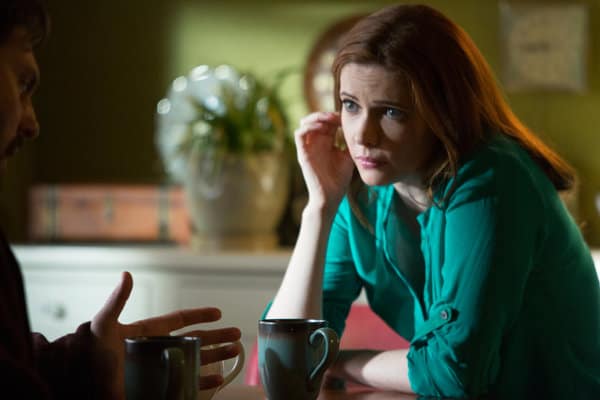 The fall finale of Grimm finds Adalind returning to Portland after having her powers stripped by Nick last season and spending time in Austria with Renard's brother this season. Since the Hexenbiest has been gone, her mother was killed by Nick's mother and her plan to get back at Nick has succeeded; Juliette and Renard have become obsessed with one another thanks to the magic cat scratch and the kiss that woke the veterinarian up from her subsequent coma.
And now, Adalind is going to try to get revenge from a little closer to home by actively targeting each member of the Grimm's entourage before finally coming for him. In her bid to make Nick feel the same pain that she felt upon losing her mother (and her ability), Adalind will be trying to get Juliette to break-up with him, sending Hank to the hospital, and blackmailing Renard for the key that Aunt Marie left Nick. But once she burns through those three and makes the Grimm upset with the amount of carnage she's leaving in her wake, will Adalind be able to bring him down and get the key back to Austria?
Meanwhile on Grimm, Monroe receives a visitor at the spice shop that leaves him with his hands full. Might Adalind be setting her sights on the Grimm's right-hand man in order to use him as leverage to get the key? Or is there some other threat lurking in the dark forests of Portland that the Grimm hasn't encountered yet?
The fall finale of Grimm airs Friday at 9:00 on NBC. You can check out two sneak peeks from the episode here, as well as a recap of the most recent episode here and the TVOvermind Grimm discussion forum here. Be sure to click the arrows above to get a look at the photos from the episode, including the return of Adalind.
Are you happy to see Adalind popping up in Portland once again? Do you think she'll get the key from Nick, or will someone foil her plan? Who will be the visitor at the spice shop that takes Monroe off guard?