[FLOWPLAYER=http://www.tvovermind.com/wp-content/uploads/2012/11/grimm-210-1.jpg|http://www.tvovermind.com/wp-content/uploads/2012/11/GRM210_Clip1.flv,440,280]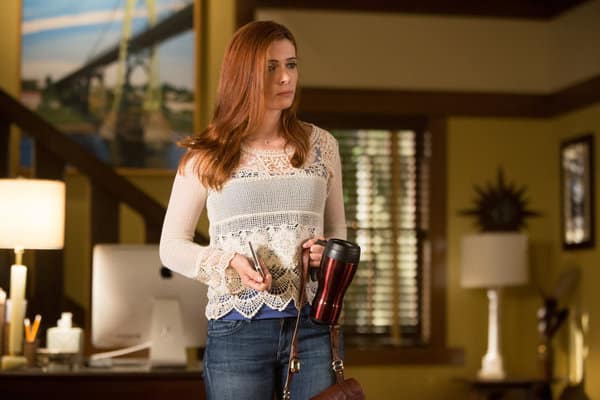 Ever since Renard kissed Juliette to wake her up from a coma, there's been a sense of tension on Grimm regarding what would happen if they were left alone together. For the most part, the two have maintained their distance from one another and obsessed about the other in the privacy of their own mind, but the connection between the two has been intensifying recently. With Juliette seeing Renard's face when she kissed Nick a couple of episodes ago and Renard following Juliette home and nearly getting into the shower with her, the first time that they're completely alone and uninterrupted was bound to be especially tense.
On the next episode of Grimm, the two finally have their moment, as Juliette is distraught over problems in her relationship with Nick and Renard is there to "comfort" her. There's a definite awkwardness to their interaction, the both of them knowing something's up but unable place it, until Renard places his hand on top of her hand and they seem to feel something then. Might their connection get stronger upon physical contact? And if so, how long will it be until the physical contact goes from a hand touch to something more inappropriate?
Elsewhere on Grimm, Nick has to bring down a new Grimm that came into town with the only goal of hurting as many Wesen as it can. Having another one of his kind could have been a major learning experience for Nick and given him a perspective on their calling that his mother couldn't have provided, but the new Grimm isn't exactly keen on history lessons and male bonding. Will the Wesen fairy tale book that Monroe keeps close be able to provide any concrete answers about who the Grimm is, what he wants, and, most importantly, what can be done to defeat him once and for all?
Grimm airs Fridays at 9:00 on NBC. You can check out a recap of the most recent episode here, as well as photos from the next episode here.
How far will Renard's "comforting" of Juliette go? What type of information do you think is in the book that Monroe shows Nick? Will Nick be able to take out the new Grimm, or will he escape back to where he came from?
[FLOWPLAYER=http://www.tvovermind.com/wp-content/uploads/2012/11/grimm-210-2.jpg|http://www.tvovermind.com/wp-content/uploads/2012/11/GRM210_Clip2.flv,440,280]
[FLOWPLAYER=http://www.tvovermind.com/wp-content/uploads/2012/11/grimm-210-3.jpg|http://www.tvovermind.com/wp-content/uploads/2012/11/GRM210_Clip3.flv,440,280]