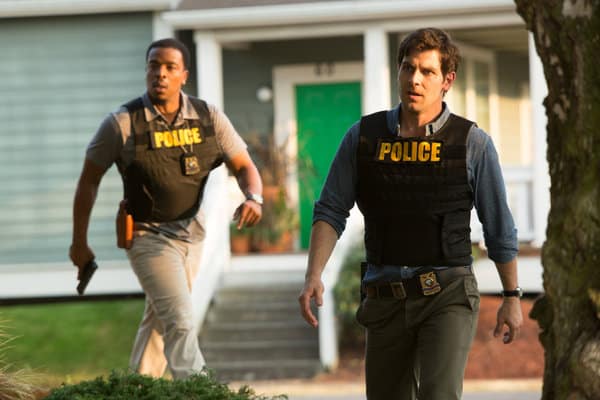 Last year on Halloween weekend, Grimm surprised pretty much everyone by debuting well against playoff baseball and continuing to thrive Friday nights on NBC. At the time, the network was in dire straits with a Voice-free line-up that didn't provide much in the way of optimism, so the last thing that you'd think would happen would be a big debut from a Friday night genre show. But Grimm has spent the last calendar year establishing itself as a reliable performer with a loyal fanbase and a growing presence on the television landscape. After all the progress that it's made, including a shift toward the serial, you had to wonder what it'd pull out for its second Halloween episode.
Below are the dates, episode titles, and full episode descriptions for the next two episodes of Grimm.
Friday, October 19th – "The Other Side"
Nick (David Giuntoli) and Hank (Russell Hornsby) are called to the scene of a murdered high school academic decathlete and learn just how competitive some extracurricular activities can be, and the extremes some coaches and parents will go to give students the best chance for success. In other police matters, Captain Renard (Sasha Roiz) deals with an unwanted infatuation while we learn an old accomplice of his has been spending time with his family in Europe. Elsewhere, Monroe (Silas Weir Mitchell) continues to manage the spice shop and gets a visit from an unlikely customer.
Friday, October 26th – "La Llorona"
Despite the enthusiastic anticipation of the city's residents for Halloween, a series of horrifying child abductions make their way to Portland, quickly spoiling the holiday spirit. Nick and Hank join forces with Valentina Espinosa (guest star Kate del Castillo, Telemundo's "La Reina del Sur"), a mysterious detective from Albuquerque, to help find and capture the elusive suspect. Juliette (Bitsie Tulloch) joins their investigation, acting as the precinct's fill-in Spanish translator. The more Nick digs into the case, the more he realizes the pattern of the kidnapping matches those in the famed Hispanic horror story "La Llorona," a story with its roots intertwined with his own family's history. Meanwhile, Monroe celebrates the holiday in fine style as he teaches the neighborhood bullies a lesson.
Grimm airs Fridays at 9:00 on NBC. You can check out my recap of the last episode here, as well as the TVOvermind Grimm discussion forum here. Be sure to click the arrows above to get a first look at the episode.
Now that an old accomplice is confiding in his family, will Renard be forced to confront them in the near future? Do you think the unlikely customer that Monroe deals with is somebody we've already met before? How will Nick react to having Juliette out on a case with him?