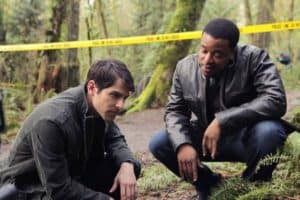 Monroe's knowledge of the Wesen world has proven to be one of the most valuable assets for Nick's success as a Grimm. Nick could have made progress without Monroe, but it would have been a much slower evolution and he wouldn't be in the position that he's in today without him. Monroe's creature connections and past interactions with pretty much any type of Wesen one can think of has provided a safety net for Nick to be able to grow into his abilities without the threat of a reaper.
However, Monroe can sometimes put Nick in a difficult position, making the Grimm decide between following the letter of the law or aiding a creature that Monroe has a connection with. In the sneak peeks for tonight's episode, titled "Big Feet", he does just that, getting Nick to hide a creature friend of his that can't change back into human form. It's a condition we haven't seen before on Grimm and something that creates a pretty interesting moral dilemma for Nick; does he still turn the suspect in? How long does he actively hide someone that may have torn multiple people limb from limb?
Juliette has gotten into the mix, as well, discovering the bodies left by the Wesen, the closest she's come to an actual case of Nick's. There may have been attacks in her home or across the street, but Juliette has yet to discover a body and having her come that close to Nick's other world turns the pressure up on an already tense situation. It's difficult enough for Nick to weave his way through the creature world, especially now that his "star" is on the rise, and now his girlfriend is on the cusp of discovering his life as a Grimm.
Grimm airs tonight at 9:00 on NBC. If you missed my review over last week's decent but filler-y episode, a play on Cinderella, you can check it out here.