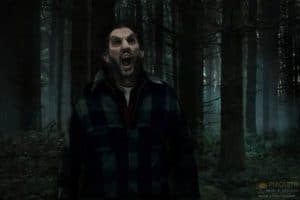 As a proponent of heavily serialized drama, character development is one of the major things that I look for when deciding whether or not to stick with a new show. Even though you have to give some a little more time than others, there has to be some sense that the people on screen are characters that are going somewhere and have their own sets of hopes, fears, and aspirations that give them some coloring. Though watching a crime be solved will always be intriguing to me, mostly because my degree is in criminology, there has to be more to the characters in a procedurally-based show than complex legal lingo and generic cop platitudes that make them look less like people from the real world (as opposed to The Real World) and more like the means to an end that are only there to bring you 42 minutes of justice.
When I took on the role of writing about Grimm, I was a tad nervous. I'm not a huge watcher of procedurals and very rarely watch cop dramas in my free time, so I simply hoped that the show would toss in enough serial elements to keep me interested to go along with the expected legal wranglings of Portland, Oregon. After a sluggish start in terms of character beats, it looks like Grimm is on its way to being able to please fans of the serial and procedural elements of TV, if "Let Your Hair Down" is any indication. Grimm may not stack up character moments like its genre show peers, but when it does decide to give you a peek behind the curtain, it's usually a whole lot of fun, as evidenced by last night's episode that gave just about everybody a moment or two to just be themselves.
Most notably, "Let Your Hair Down" was another Monroe-heavy episode that added more density to the show's heartiest character by revealing his complete love of anything and everything Christmas and a little bit of what he learned in the scouts as a baby blutbad. However, quirky traits/history aside, the episode gave Monroe some much needed (positive) interaction with somebody other than Nick. Thus far in Grimm's run, Monroe's played the part of oracle and enforcer, both the muscle and the brains behind Nick's immersion into the Grimm world, but we've very rarely seen him just be a friend or have a chat with somebody else. Last week's episode aside, of course. He had kind of been Grimm's fire extinguisher, existing in an isolated glass case and take out in case of emergency, so an episode like "Let Your Hair Down" highlights the fact that he's got a human side and a need for contact that hasn't quite been met yet.
If the show is planning on using him as much as I think they are, this type of episode is necessary in the grand scheme of things, as Monroe's struggle to balance his two sides is one of the more intriguing parts of Grimm and made all the more poignant when we see how caught in the middle he actually is. The door was left open for Holly to return as a possible Monroe mentee and I kind of hope she's brought back, if only to give our favorite sidekick some non-Nick interaction.
Monroe wasn't the only supporting Grimm-ster to gain from "Let Your Hair Down", as Renard, Wu, and Hank all got to show off, in a sense. Now that we know that Renard is a Grimm like Nick, all of his official police duties and press conferences like we saw are given that much more depth and eeriness. Wu and Hank' s budding bro-ship makes sense within the context of the show and works well for both characters; since Nick is off by himself/with Monroe a lot, having Hank sit around and do nothing would be a waste of a character, so teaming him up with Wu gives him something to do and brings some new dimension to the police department scenes. While keeping Hank in the fold as opposed to sending him almost strictly on side missions, it brings previously peripheral Wu closer to the show's orbit and makes him less of a uniform and more of a person. We still don't really know who Wu is, aside from being a hard-working, sarcastic drinker, but we're much closer now than we were even a few episodes ago and that's pretty much all you can ask for.
As much good as "Let Your Hair Down" had, with its copious time in the gorgeous forest, I'm a little exhausted of all the kid/teen cases the show has thrown at us. Of the first batch of episodes, only a couple haven't dealt with children or teenagers being dangerous or in peril, which is playing that card a bit too much for me. I don't mind episodes concerning crimes committed against children, but when you're seven episodes in and more than half feel too similar, it's time to expand your reach a bit. I know that the show is based on fairy tales, which are about and aimed at children, but Grimm has done well so far about changing up enough elements from the source material to appear modern and I feel like they could adapt several stories into adult tales. It just feels like tired writing to continue going to the "child in danger" well and while there are enough elements in "Let Your Hair Down" to keep the episode fresh, including Monroe's connection to Holly, the episode could have been stronger with a different type of case to work from.
The fall finale of Grimm was a pretty fun way to admire how aesthetically beautiful the show can be while giving several characters screen time to advance their agendas. The chess pieces are moving slowly around Portland, but all that matters is that they're indeed moving and that the show they're moving in has made leaps toward finding itself in recent weeks. Grimm has still not made the cross from good to pretty good (and even great), but the more we get to know the people behind the monsters, the more I think it has the firepower to do so.
Thoughts, Quotes, & Observations:
-"We're not cops. We own a doggy wash!"
-"That is one broken neck."
-"I don't think Big Foot would fit into the sleeping bag."
-"Hold on to your…whatever you hold on to."
-"You should see me in my Santa suit."
-"$50 says you're full of tree sap."
-"It also works as a fine diuretic."
-"I was being attacked. I didn't stop to consult my animal guide."
-This was yet another strong opening scene for Grimm, no? Say what you want about the rest of the show, but they always start things off with a bang.
-Did anybody catch whether the guy bragging about being in a Grimm's house and surviving was the refrigerator repairman from a couple episodes back? I'm 95% sure that's who it was and if it is him, nice job on bringing him back, writers.
-How did you feel about the open-ish ending with Holly's eyes glowing in the police station? I'm glad they tweaked things and it was suitably creepy, but I hope it goes somewhere.
-The whole "if she goes for my throat, shoot her" thing was too cool and kept Monroe's supernatural-y self in the forefront.
-We're now around a quarter of the way through Grimm's first season, with the show resuming on January 13th. Hit the comments (or my e-mail) and let me know what you've thought so far. How has the show compared to your expectations? Do you think they should amp up the serialization? What's been your favorite episode thus far?