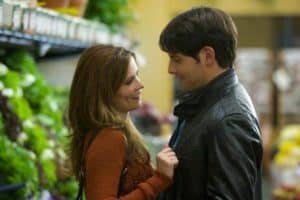 After giving Up All Night two extra episodes to be sweet and adorably funny, NBC has picked up sci-fi drama Grimm for a full season. The show recently received a script order, but thanks to steadying ratings and positive fan word-of-mouth, it earned its back nine. It's a positive development in NBC's lackluster fall, as The Playboy Club, Free Agents, and Prime Suspect have all bitten the dust before the calendar rolled to 2012. Up All Night and Whitney are the only other NBC fall shows to have been granted a full season.
If that's not enough, the fairy tale procedural will be airing its next episode, titled "Danse Macabre", on Thursday, December 8th at 10:00. The show will remain on Fridays (for now), but the move shows faith in Nick Burkhardt & Co. and could bring extra eyes to the show for the rest of the season. Another new episode will follow on Friday, December 9th.
Grimm airs Fridays at 9:00 on NBC. If you want to know about sexy goats and the show's increasing acceptance of darkness, check out my review of last week's episode.
Have you been watching Grimm? Which fairy tale show do you prefer: Once Upon a Time or Grimm? Are there any specific stories that you want Grimm to address?