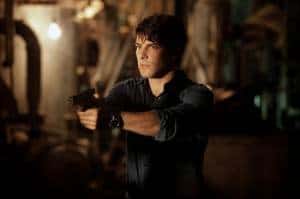 Deadline is reporting that NBC has granted fairy tale procedural Grimm two more scripts to work its magic, so to speak. While not a full season order, it's a vote of confidence for the show, which has yet to stabilize its ratings after three weeks. The show debuted to higher than expected ratings facing game 7 of the World Series and has been competitive each of its three airings.
Grimm tells the story of Nick Buckhardt, a detective that discovers he's a descendent of the Grimms, a group of creature hunters with lineage dating back generations. Following the death of his aunt Marie, an infamous hunter who tried to impart as much knowledge to her nephew as she could, Nick has to learn about the infinite amount of monsters lurking in the world while reconciling both sides of himself. Grimm co-stars Silas Weir Mitchell as Monroe, a reformed big bad wolf helping Nick adjust to his new life, Russell Hornsby as Hank, Nick's homicide partner, and Bitsie Tulloch as Juliette, Nick's girlfriend.
Grimm airs Friday nights at 9:00 on NBC.
Have you been watching Grimm this season? Do you think the show should get a back nine order? What can the show do to keep improving?