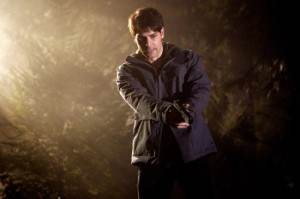 In the first 21 episodes of Grimm, Nick Burkhardt has battled a variety of creatures from the Wesen world. From fuchsbau foxes to bloodthirsty Bauerschwein, he's had to learn about and eventually take down his fair share, becoming a better Grimm with every victory, every bit of justice done to the perpetrators of some pretty heinous crimes.
In the season finale, titled "The Woman in Black", Nick comes up on a challenge unlike anything he's ever seen. No, no ax-wielding wolves or bomb-tossing owls to be found; instead, Nick Burkhardt, Portland detective and fearless Grimm, will have to take on…a house cat. This being Grimm, it's bound to not just any cat, but a cat whose claws and bite cause more damage than minor scratches. And it's nicked Juliette, enough where Nick may be forced to tell her his ultimate secret in order to get her potentially life saving medical care. Might this be the time that everything finally comes out?
Elsewhere on Grimm, the fourth suspect in the death of Nick's parents has made his way to Portland and isn't exactly coming for a relaxing weekend at the Portland Art Museum. Having only recently found out about the existence of a fourth man, Nick's emotions might not be in the right place to handle actually seeing him in person. Detective Burkhardt might be a tough man that has grown into a very capable Grimm, but those victories have all been in cases that didn't affect him personally like this one does. The death of his parents altered the course of his life and he's bound to be dealing with extremely raw emotions right now.
But can he handle those emotions and do his job? And what does Captain Renard have to do with anything?
The season finale of Grimm airs Friday at 9:00 on NBC. You can check out my review of a pretty solid penultimate episode here.
On the next page, watch two more sneak peeks of the Grimm finale, including Monroe talking about the role that house pets play in the blutbaden world.