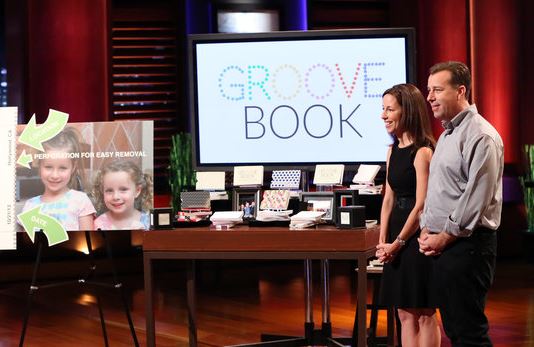 Many people love tuning into ABC's Shark Tank to watch as numerous entrepreneurs do their best to pitch their business ideas and get financial backing from potential investors. However, even though we see which ideas get support and which don't on Shark Tank, have you ever wondered what happens to these people and their potential businesses after they appear on the show? Do they actually find success or not? Well, we now know that at least two Shark Tank participants certainly have, and their names are Brian and Julie Whiteman.
The Whitemans' company GrooveBook, a mobile photo book app subscription service that sends customers a collection book of their mobile phone photos (which can reach a total of 100 photos) each month for the price of  $2.99, was just acquired by Shutterfly Inc., the leading manufacturer and digital retailer of high-quality personalized products and services. Shutterfly purchased GrooveBook for $14.5 million.
"This is a great moment in Shark Tank history, and a testament to the message at the heart of the show: the American Dream is alive and well," said Kevin O'Leary, founder of O'Leary Financial and star of Shark Tank. "I've worked closely mentoring Brian and Julie, the founders of GrooveBook, and I've always believed in their potential as entrepreneurs to grow their business into something remarkable. Today they have done just that – and thanks to their hard work and great innovation, they are going to wake up financially independent and free."
"We are thrilled to bring GrooveBook to the Shutterfly Inc. family of brands," said Whiteman. "Shutterfly is the industry leader and by leveraging their technology platform, expansive manufacturing footprint, and expertise in quickly scaling brands, we will be able to scale GrooveBook operations and grow it into a profitable, nationally recognized brand."
Shutterfly Inc. was founded in 1999. In addition the newly acquired GrooveBook, Shutterfly brands include Tiny Prints, Wedding Paper Divas, Treat, MyPublisher, ThisLife, and BorrowLenses.
In an email sent to customers, the Whitemans promised that "everything you love about GrooveBook will remain the same" and that Shutterfly "will bring its 100% Happiness Guarantee to you, along with its commitment to free, unlimited, secure photo storage — all great things!"
Photo via ABC