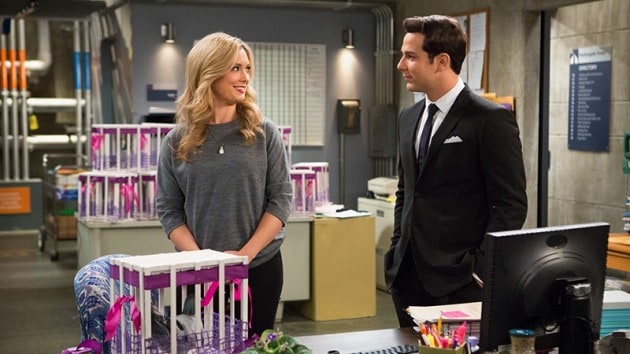 From the beginning, it seemed "Wicked Wedding" was hiding something. The first six weeks of Ground Floor's second season have challenged characters, pushing relationships into new territory, consistently aiming for something large in plot and character in their third acts; and for the nearly the entirety of "Wicked", all of that seems to be missing. However, it turns out all the tattooing and decorating was an elaborate ruse; as the third act of "Wicked Wedding" begins to materialize, it reveals the catalyst for what will be the season's climatic moment, with Brody proposing to Jenny.
How the episode hides it is fairly clever; the title neatly deconstructs into the Wicked show Brody is desperately trying to get Jenny to see, and the 'wedding' refers to Mansfield's wife (who makes her first appearance), who is planning the wedding of Mansfield's oldest daughter. Initially, these two conflicts feel light as a feather; Threepeat is delivering joke after (hilarious) joke, and Harvard gets a tattoo of Lindsay's face on his arm (then has it removed). Unrelated stories, seemingly constructed around the premise of a few jokes – it's a genius move to lull the audience into the final act (almost like Lindsay at Wicked), only to drop a bomb in the final minutes, in the typically adorable Ground Floor fashion.
The non-Brody/Jenny stories kind of fizzle out at the end; if there's one flaw with "Wicked Wedding", it's that the side stories exist mostly to serve the main story, though only tangentially at best. Mansfield's strong marriage changes the energy of the show, leashing Mansfield (a bit) and introducing the idea of 'marriage' into Brody and Jenny's relationship, something the latter has no interest in. Slowly, the episode begins to focus on Brody's obsession to get her to like Wicked; as we often tend to do, we force the things we love on those we love, in a desire to share everything with our significant other (any girlfriend of a TV or movie critic can attest to this happening… constantly).
Of course, this often back fires – yet Ground Floor isn't so much interested as using Jenny's disinterest in the play for dramatic purposes, as it does a catalyst for much more important stories. And it's what makes the episode fall into place, even when Harvard and Threepeat and everyone else have been pushed to the wayside: when Jenny is seen singing a song from the play in the kitchen alone, it's a beautiful moment (and not just because Briga Heelan can also sing like a boss… that woman is too talented sometimes), a moment that launches the show's most ambitious story: Brody proposing to Jenny, a woman who has absolutely no interest in getting married.
Convenient timing to bring up this character trait? Sure, but it's actually something well-established by the show before, so it doesn't feel cheap or contrived to be an issue in their relationship. Brody's always been a person who wants to rush from point A to point B, where Jenny is so content hanging out between the two, she never gets anywhere; the conflict is neatly baked right into their characters, which again, makes the moment in the kitchen when Brody catches her singing along even more touching, and hopeful for what's bound to come in the finale.
Even though the ending of this episode (as well as the season one finale, and the show's approach to their relationship as a whole) appears to give away the season finale, there's still work to be done bringing Jenny from marriage hater to engaged woman. With three episodes left in the season, there's also plenty of time for that, and while I worry it may again come at the cost of most other characters on the show – I'm still a little disappointed about how unimportant Mansfield's wife felt in her first appearance – if there's one story this show knows how to tell well, it's the story of Brody and Jenny falling in love (did I mention how awesome it was for the show to return to its musical sensibilities from season one for such an important moment? Because I did now). It's not often I have complete faith in a comedy to be romantic, but Ground Floor's never let me down before, and the ending of "Wicked Wedding" ensures that there's still no reason to worry.
[Photo via TBS]