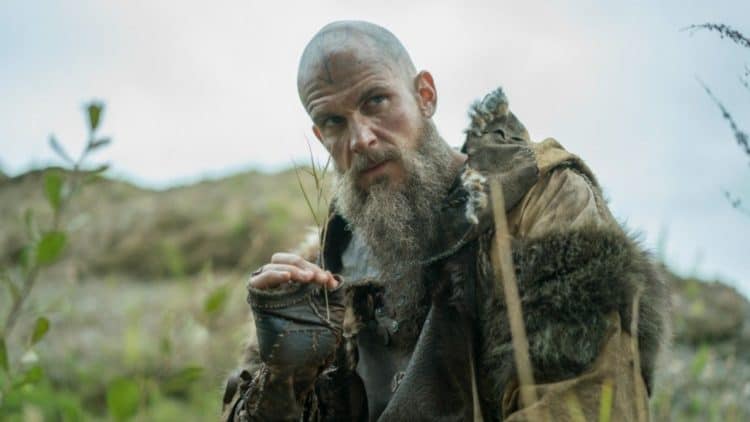 Fans of Vikings know him as Floki, but there's more to Gustaf Skarsgard than some eyeliner and a loyal and brilliant, but crazy character. We so often get caught up in a great show and forget that we're watching real people who are every bit as impressive in real life as they are on screen, albeit, in this case, a whole lot less violent. If you're like most people, you may only know Gustaf for his most famous role to date. You're missing out on a whole lot, so here are ten things you don't know about Gustaf Skarsgard.
1. Origin Story
Gustaf Caspar Orm SkarsgÃ¥rd, born November 12, 1980, in Stockholm, Stockholms län, Sweden, turns forty this year. However, it's his past we're interested in here. As a child, Gustaf grew up in a very unconventional family. By the time he was eight or nine years old, Skarsgard was already working in the film industry. His first role in Täcknamn Coq Rouge cane in 1989. Since then, he's been in numerous shows and films, many of them Swedish.
2. Famous Family
Stellan Skarsgard, the actor and patriarch of the family, has eight children. Seven are boys and all of them are in the limelight save one. Gustav's brother Sam is a doctor like his mother, My. However, the rest of the Skarsgard sibs are all in film, TV and of course modeling. All the men in his family are over six feet tall, putting this family literally head and shoulders above the people around them.
3. Filmography
You may not have seen all the outstanding shows and films Gustaf is a part of because many of them are in Swedish. However, his personal filmography has over forty shows and movies in it dating back to the 1980s. Notably, he provided the voice of Stan Shunpike for the Swedish version of Harry Potter and the Prisoner of Azkaban. This prolific actor has been a part of movie and TV history for two-thirds of his life.
4. Beyond Acting
In addition to his career as an actor, Skarsgard has other talents as well. Growing up in a theatrically inclined family, he also works as a writer and directs occasionally. It's no surprise considering how early he got into the business. While we enjoy his work regardless of which side of the camera he's on, we certainly haven't seen enough of him on the screen. After all, it's hard to get enough of a favorite actor, even when their work is prolific.
5. Awards
Gustaf hasn't received an award for his work on Vikings or Westworld, which we think is a horrible oversight on the part of the nominations committees. However, he has won a few awards and nominations in his time. Nowhere near enough if you ask us, but we also think there will be plenty more in his future. Notably, he won EFP Shooting Star at the Berlin Film Awards in 2007 and the 2004 Screamfest Festival Trophy for Best Actor in Den osynlige. He also won the 2007 Guldbagge Best Actor (Bästa manliga huvudroll) for Förortsungar. We see lots more trophies in his case in the future because Gustaf is genuinely an exceptional actor with range and versatility who is underappreciated in his time.
6. Secrets of Westworld
After being one of the most beloved Vikings ever, Floki (Gustaf) had to move on with his career. Fortunately, he was cast as Karl Strand in Westworld. The bad news… Westworld is a bit like Fight Club. Actors who are cast on the futuristic western aren't allowed to talk much about the project because they keep a very tight lid on what's happening on the set to avoid internet leaks and spoilers for the next season.
7. Not Perfect
Living with a famous family and spending time on movie sets can take its toll on an actor. Especially when you start out so young in a renowned family, life can be hard. For Gustaf, he once coped with his issues through drinking and doing drugs quite young. Fortunately, the actor realized that it was the wrong path to take, and these days, he stays clean and sober, for which he's quite deservedly proud.
8. Almost Royalty
Growing Up Skarsgard could be the title of a reality TV show. America has the Kardashian girls, but if you live in Sweden, it's all about the Skarsgard boys. Paparazzi regularly follow the family, and they're just as famous in their home country as Kim and her sisters are here. With famous parents and a number of famous siblings, plus his own career, Gustaf was already well known long before we discovered him here in the States.
9. (Former) Married Man
Gustaf was married to wife and fellow actress Hanna Alstrom from 1999 to 2005. Ultimately the couple split, and we don't know why. Gustaf doesn't share a whole lot of his personal information, and he's not known for giving many interviews. Though he and his relationship status remain a mystery, we're just happy to see him on the screen.
10. Hair (Non) Issues
We all know men can be sensitive about their hair. Losing it, especially in a family with other famous brothers who have great hair, can be a touchy subject. Even though he's a very handsome man, Gustaf was incredibly sensitive about his balding head. We think he rocks the hairless look incredibly well, and it distinguishes him from his brothers. It's hard to stand out when (almost) your entire family is in the same business, and there's a strong resemblance between them.
Final Thoughts
Gustaf Skarsgard is an outstanding actor, and though we wouldn't want to insult any member of his family, we'd have to say that Gustaf is easily one of the best we've seen. We're so glad he's moved away from Swedish film to share his talents with the world. We can't imagine Vikings with a different Floki, and we've been enjoying him as Strand on Westworld as well while we work our way back through his filmography. Whatever comes next for Gustaf, we'll certainly be watching.