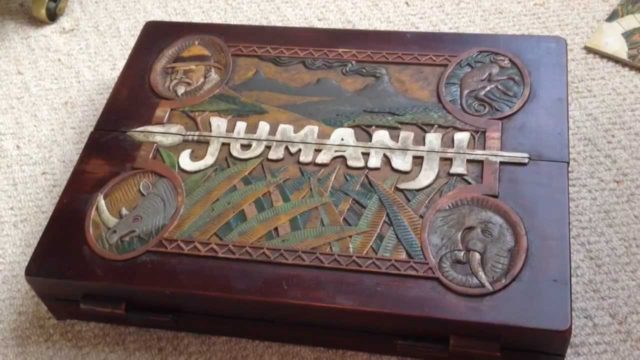 First of all you'd have to absolutely love the movie, which isn't too hard because really Robin Williams was a god among comedians. But to actually think about doing this type of project you'd have to know that it wasn't going to be easy going in unless you liked to work with your hands and had a natural affinity for building things. Then you'd have to figure out the dimensions and determine just how big the actual Jumanji board was in the movie. Granted, it wouldn't have to be true to scale or even as detailed as it was in the movie, but if you're a film buff then you know that it would be difficult to settle for anything less.
The lengths to which this guy is going are just amazing to recreate something that a lot of people probably don't even remember. Having been a fan of the film though I can honestly say that I appreciate and even understand his desire to make something this unique and iconic despite the fact that a lot of people didn't think much of the movie. Robin Williams didn't really bad movies if you go by his performance, but then critics being what they are with the ability they have to lambaste a film and make sure that it doesn't get remembered explains a lot.
Watching this guy is just amazing as he goes over each and every piece so meticulously and with such care. He even has to take a few steps back at one point and redo a couple of things because his measurements were wrong. He doesn't just say "ah that's too bad let's keep going" he goes back and fixes it to make sure that it's right, which is impressive enough, but given that he's trying to complete something that's a work of art all on its own it's really more than impressive, it's simply amazing.
I mean the guy goes so far as to screen print the instructions that are found on the inside panels, he carefully details every last piece of the entire game, and the gem in the middle? It almost looked as though he was simply going to  cheat and use a paper cutout to make the entire thing come together. But if that's what you thought you should have known better. This guy doesn't do anything halfway or without purpose. Take a look at what he does for the front of the game board if you don't believe me. This guy is going all out in a way that makes it seem that he's more than just a fan, he's a straight up enthusiast of the movie and someone that actually likes taking on these types of projects.
Watching this from  start to finish, even in fast motion, was kind of a privilege since it showcases a level of talent that is simply fun to witness. Once the guy has it all done he even goes so far as to show the board, then open it, and then retrieve the pieces. After that he displays another little fun bit as he tosses each piece in the corners where, thanks to the magnets he's set up, they assume their places and stand ready to be moved.
Grab the dice, it's time to play.
Save