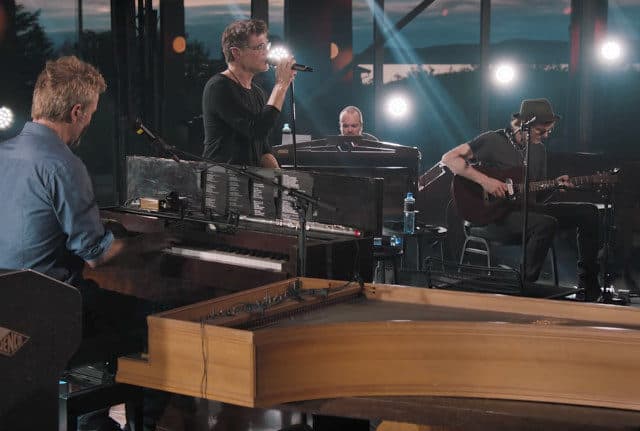 This acoustic version of A-Ha's Take On Me is a lot different than the original version. MTV has revived "Unplugged" so we could be getting used to a number of bands making small comebacks like this.  This track sounds so much more somber than it did originally that one could almost think that it's more of a goodbye or a tribute to the original song, as though A-Ha might be saying goodbye in some sad way. That's not the case you think, is it?
From the reaction of the crowd you might almost think so. A lot of them, most of them probably, were still kids when A-Ha was a popular band that people went crazy over. Some of them are even sitting there with tears in their eyes, as though lamenting their lost youth as they remember the days that they were so young and carefree. To be honest I can't fault them for that, though growing up in the 90's it's kind of easy to be envious since a lot of our music was so hectic and over the top that it was really hard to get nostalgic about it. Â This song however belongs to a very memorable era in which the music and the videos were starting to get a little out there but were still very easy to get into.
I guess I can't say much when it comes to getting emotional about music, since there are songs that pull at my heart strings just as much as this one seems to do for the gathered audience. A-Ha was after all one of the more popular bands in the 80's and touched a lot of people. This song in particular is one of the best remembered tracks from that era and has carried over since into many different parts of American culture. The name of the band might have seemed a bit odd to some but the overall feel and sound of the track is something that's managed to stick around.
It's interesting that the lead singer isn't hitting the high notes like he used to. I wonder if that's just in deference to the fact that they're unplugged or if his voice can't hit that register any longer. Things do happen as people get older, you're body doesn't snap back as it once did and your performance of decades ago could be affected. After all your voice does tend to change over the course of your life and unless he's been belting out the same notes for all these years he could have lost the ability. He could have lost it even if he had been practicing all this time since age tends to take things away and give back very little in the way of physical attributes.
There's nothing bad to say about this performance though since it was well done and sounded great. The lead singer is obviously still possessed of a great voice, and the reaction from the crowd was more than a little telling. People were reminded of the times they spent listening to this band with rapt attention, no doubt reliving their youth just a little in that moment.
Save