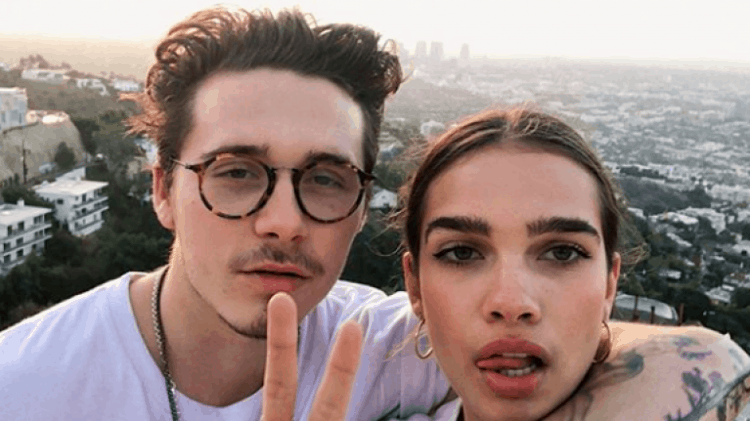 There are people in show business and living the life of the rich and famous that still don't seem to have an identity of their own when it comes to the various news articles that are being posted online. Hana Cross would be one of those since quite honestly the moment you conduct a search for this young woman you're going to run into a wall of Beckham that's not going to yield up a whole lot of information without mentioning the family more than a few times until you get the point that she's now bound to be mentioned with them more often than not. How anyone might feel about that is usually a personal matter, but at this point it doesn't seem like she's raising much of a stink about it, at least not to the point that anyone has heard and reported on just yet. Maybe she's just become that comfortable in the relationship.
Here are a few things about Hana you might not have known.
10. She's referred to as the girlfriend of Brooklyn Beckham quite a bit.
Seriously, just about every article you find on this woman will direct you to look at Brooklyn Beckham and his family at least once or twice in the process of trying to find out more about Hana and what she's done her career to date.
9. Hana has a pretty decent following on social media.
It's enough to realize that she has a lot of people following her on social media to think that she is well known enough to have her own fans and doesn't always have to rely on the Beckham's to get noticed. But in all likelihood their influence doesn't hurt to have in her corner if she needs it.
8. She's definitely gotten the seal of approval from her boyfriend's family.
This is usually something that any person is wanting when they hook up with someone since getting along with your significant other's family is a big part of life since if things get really serious these are the people that are going to be a big part of your life for years to come.
7. Hana has been a model for a little while now.
It almost gets lost in the mix that she's been modeling for a while now but if you dig a little deeper than the surface you can find this out and you can discover that she's been quite successful at her job for a while.
6. Despite what people might think her real fame seems to have started when she hooked up with Brooklyn.
This seems really dismissive of whatever talent she does possess but it does seem as though her career got a major overhaul when she hooked up with Brooklyn and it's kind of interesting to think that she might be playing off of it as much as she can at this point.
5. She's in her 20s at this time.
There's a lot of time left in her life to establish herself, perhaps at this point she's just taking it easy and continuing her career while building her relationship and allowing the news of who she's with to dominate the headlines.
4. Some folks seem to think she looks like Brooklyn's mother Victoria.
She's definitely a looker, but looking like Victoria is only possible from a passing glance no matter how many arguments a person tries to make. People looking like other people is something that a lot of folks tend to use as false flattery or something else, but in this case it's just not as noticeable as some people might want others to think.
3. There don't seem to be a lot of candid photos of her circulating around.
In other words there don't seem to many, if any, photos of her that look as though they weren't planned and were taken when she wasn't looking, apart from those that are snapped for magazines and online sites, which still look amazing most of the time. It's as though she knows just where the camera is at all times, but other times most of her photos are obviously moments in which she picks or has been told to look glamorous, and of course they look great.
2. Articles stating "everything you need to know" about Hana end up being about her relationship to Brooklyn.
It's not so much that she gets buried the moment he's mentioned but it does seem that he becomes the focal point of any article that she happens to be in at the time unless he's just a passing glance throughout the piece.
1. Apart from blurbs here and there about her life there's not a lot about her that's easy to find on the internet.
It's almost as though you have to conduct a one on one interview with the woman to get any real information on who she is and what she's done in her life.
But hey, she's famous.