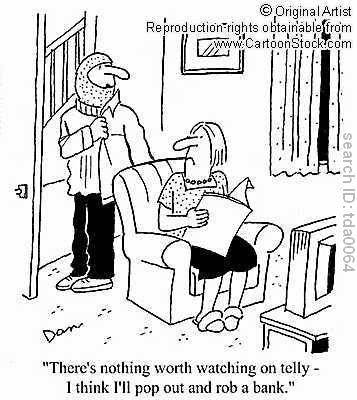 Whenever I check to see if something's coming on during a weekend (I'm including Friday), I always cringe. Even though I have a few good shows on Sunday (I'm on the edge of my seat about the Big Love series finale), Friday and Saturday are always very quiet for me on the TV front. It's not just the evenings that are empty; the days are often filled with reruns I've seen one too many times or programs that I don't have an interest in watching. Try as I might, once I finish watching my Thursday programs, I'm kind of stuck until Sunday evening.
So how do I handle it?
Well, for one, I hold a few shows over to watch. As you may have inferred from the fact that I write at a TV website, I watch a lot of TV and sometimes there's just not enough time to get to everything. My solution? The weekend. It's much less stressful to simply spend a Saturday afternoon with my cat, a plate of food, and this week's stories than to stay up ridiculously late trying to cram everything in simply to say that I've watched something on time. Occasionally, I'll try to "fit something into" my TV schedule. For example, if I have a sitcom on at 8:00 and then nothing on until 10:00, I'll try to watch something in between. If there's one thing that college taught me, it's to make efficient use of your time and of course I use that in terms of TV. Duh.
But let's just say that it's a time with lots of reruns and I can watch everything on time. What do you do then? Older shows. Yes, I'm one of those who will spend a weekend with my nose buried in my laptop marathoning a good show. I didn't "re-introduce" myself back into the primetime TV wild until a few short years ago (everything I watched got canceled, so I got frustrated and swore everything off), so I ended up missing a whole lot of good stuff and I'm still a little behind the 8 ball in terms of being up on my shows. I've slowly made some progress, watching Lost in about six weeks last summer and rewatching Buffy in about the same amount of time earlier this year (for example), but I've still not seen the likes of The Sopranos, The Shield, and Angel, aside from a spare episode here or there.
You'll never guess what I'm doing this summer.
Hypothetically, let's say you're completely caught up on everything and you don't really have any shows that are whetting your appetite. What would you do then? Well, in my case, I do my housework and errands. Boring, I know, but there's that efficient use of time thing. I may be showing my obsessive nature, but it can be hard to enjoy my shows when I've been laying in my own filth for a while. I'm not a crazy neat freak by any stretch (you should see my room!), but I figure I have to keep things neat-ish anyway and what better time than when I don't have anything on TV that's demanding my attention?
I've made a little mini-pledge to myself to start reading more as well because the pile of books on my night stand continues to grow and I've not read much since last summer.
And of course, there's always the NCAA tournament. Go Morehead State! (I graduated in 2010. Of course, the year after I leave, they do big things.)
How do you handle a not-so-busy TV day? Do you get outside, read, or watch stuff from your DVR, just to name a few? What are your good TV days and bad TV days? What's the last good show you marathoned?