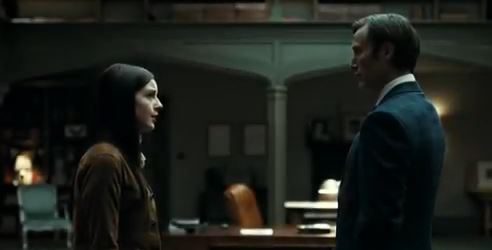 Hannibal has very quickly become one of the most engrossing dramas on television with its dense characters and psychological dynamism.  The way they have integrated the psychic carnage going on inside Will Graham's skull after he bagged his first kill is intense on its own, but the fact that he is standing vigil over that man's daughter, who might have been his accomplice, adds an unbearable ticking clock to the plot–and next week, that clock will go off.  Check out this preview from next week's Hannibal, "Potage", and we'll compare notes.
http://youtu.be/56TziOtD1F4
One of the best scenes from tonight's episode of Hannibal, "Amuse-Bouche", was when Will asked Hannibal if he felt a sense of obligation for Abigail Hobbs. Will's sense of obligation was well established–he's been by her side every available second since shooting her father and helping to save her life–but the ever opaque countenance of Dr. Lecter was as unreadable as always. Seriously, how does EVERYONE not know this guy is a sociopath; and don't invite creepy Mads Mikkelsen to any parties, unless its a David Lynch film festival.
Lecter said he felt an obligation and with that the scene setup a quiet battle for Abigail's soul between the two men that will probably not end well for either one.  As you see in the preview above, Hannibal appears to have confided in Abigail his 'secret'.  Since the show has done a stellar job of evading our expectations it could be that the 'secret' they discuss is not what we think.  If not, this 'relationship' with Abigail could reveal a very human flaw in Lecter, a tendency to allow a sense of obligation to become trust.