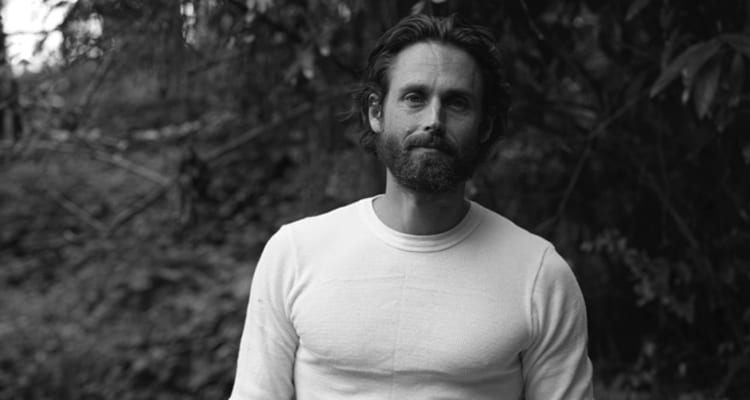 Hans Christopher is an award-winning Swedish-American actor currently living in Venice, California. He is best known for his portrayal of Randy Weaver in Paramount's popular series "Waco," starring Michael Shannon, Taylor Kitsch, and Julia Garner. He's also known for the role of John Baker in the feature film "Dreamland," starring Margot Robbie, Travis Fimmel, and Kerry Condon. His most recent work can be seen in the feature film "Model Citizen," as the antagonistic character, Nick Archer, which premiered on Lifetime earlier this year. Additionally, he recently won best supporting actor for his role as Mr. Walton in the short film "Progeny" at the Miami International Science Fiction Film Festival.  Learn more about Hans Christopher below:
1. Hans originally planned to be a doctor
His father Bo Tomas Brofeldt was a Surgeon at U.C. Davis medical center in Sacramento, California. As a child, he wanted to be a paleontologist or marine biologist before eventually deciding he would follow in his father's footsteps. He was well on his way taking pre-med classes at Long Beach State before changing course and deciding upon a career in acting.
2. He once had to live out of his car
In 2005 he found himself without a place to call home after a breakup. At the time, he was bartending at Barneys Beanery in Santa Monica and taking acting classes. Not knowing many people in Los Angeles, and not having enough money for his own place, he was forced to sleep out of his Toyota 4runner for almost two months.
After his shifts ended, he would drive to the top of a parking structure, Lot 5, in Santa Monica, and sleep in the South-West corner spot. He would shower and get ready at a gym nearby and says most of his classmates and coworkers had no idea. Eventually, he was able to save enough money to get a place of his own but says it was a tremendous learning experience for him.
3. Hans played soccer for 17 years
Soccer had a huge impact on his life growing up. He played on both high-school and competitive leagues in Sacramento and would travel around the Pacific for tournaments, sometimes playing 4 or 5 games in a single weekend. He was always the captain of his teams and played the center midfield position with an aggressive yet methodical style of play that he has carried into the way he approaches his acting.
4. He geeks out on Biohacking
A more recent hobby of his is his venture into the world of Bio-hacking. What started with him reading a book on nutrition has turned to a full-blown health and wellness obsession. Typically while driving to and from auditions, he can usually be found listening to an assortment of health podcasts. His favorites include The Drive and Ben Greenfield Fitness. Some of his favorite hacks include his Oura Ring, Chilli pad, and his Red light panel. When asked for some health tips, he said, "sleep right, eat right, take saunas, do fasts, and take cold showers. These are just a few of the many things he's incorporated into his healthy lifestyle.
5. Hans can make a mean cocktail.
Like many artists coming up, Hans survived early on by working as a bartender at many well-known Hollywood hot spots serving the film stars he so admired. His highlights as a bartender were hanging out with Bruce Willis for an evening and doing roundhouse kicks with Jean Claude Van Damn. His drink of choice is an Agave tequila on the rocks with a lime. He once served Shonda Rhymes and had an amazing conversation with her having no idea who she was. It wasn't until after she left that someone he worked with informed him of who he was talking to.
6. He is a budding activist
He first got involved during the 2016 primaries and Standing Rock. Since that time, he is has become a member of Represent Us, a movement to end the corruptive influence of money in our political system. He's also involved with the Sunrise Movement, and it's aim to advocate political action on climate change, and Code Pink, a grassroots peace and social justice movement working to end U.S.-funded wars and occupations.These are just a few issues he's fighting for and hopes to one day be able to use his platform to advocate change.
He hopes to follow the likes of Mark Ruffalo, Susan Sarandon, and Leonardo DiCaprio as artists who are using their voice and platform for good.
7. Hans had terrible stage fright growing up
Growing up, he was always very shy. He had a tremendous fear of public speaking and being in front of people. He says it took him almost five years in classes just to be able to get out of his own way. But he credits much of his success and growth as an artist to it, saying it forced him to find different ways to make the stories he was telling more important than those fears.
8. His favorite TV show is HBO's "Deadwood"
Although he didn't like westerns much as a child, he said that all changed with HBO's "Deadwood."
He enjoyed the show so much that it inspired him to enroll in his first acting class. Since then, he's watched the entire series a handful of times and used to fall asleep to random episodes. He was even lucky enough to be invited to the Premiere of "Deadwood," the movie where he got to see the cast talk about their time and experience working on the show. He now has dreams to write, direct, and star in his own western someday.
9. Hans is a die-hard Sacramento Kings fan
Growing up in northern California, he always followed and rooted for his city's only professional sports team, the Sacramento Kings. He said he may have actually cried when Robert Horry hit the game-winning three to beat the Kings in the playoffs. His favorite player as a child was Alonzo Mourning because of the passion and intensity he played with, and from the Kings, it was "the Rock" Mitch Richmond. Hans once got to see Michael Jordan live. He is also a fan of the Indianapolis Colts and San Francisco Giants.
10. His first professional booking was as a stand-in for the NBA's Steve Nash
Hans says he will never forget that job because it was what got him his SAG card. As a stand-in for Steve Nash in a vitamin water commercial, he spent most of the day in his trailer. He said it was his first experience of how much waiting there is in this industry. The highlight of the whole thing was when Steve asked him if they could take a picture together.
* Head-shot photographer credit: Christine Solomon