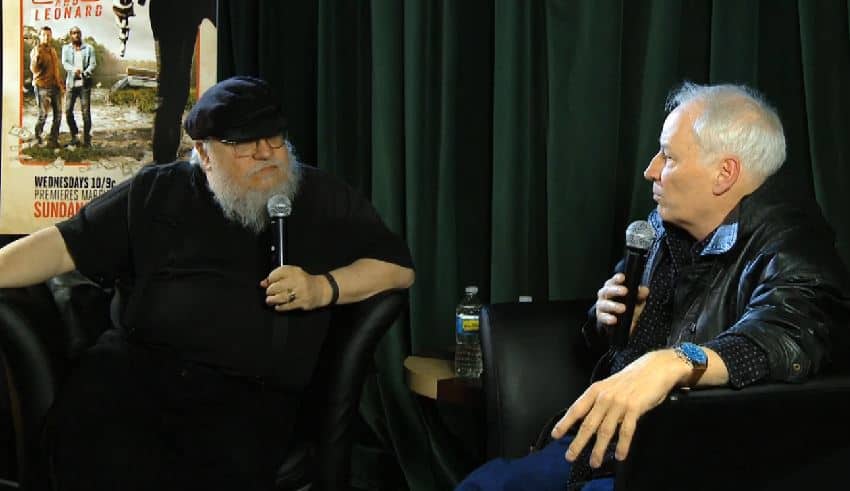 The premiere of SundanceTV's new series Hap and Leonard is just two days away, and if you're looking forward to the show and are a fan of Game of Thrones, then we've got a special treat for you. In the exclusive video below, George R.R. Martin, the author of A Song of Ice and Fire series that Game of Thrones is based on, interviews Joe Lansdale, whose novels and characters serve as the inspiration for the Hap and Leonard TV show.
During their conversation, Martin and Lansdale talk about everything from the casting of the characters to the universe that Lansdale has created in his novels. Additionally, Martin shares his appreciation for Lansdale's work, commenting on the "strong voice" that can be found in all of his books and, of course, in the Hap and Leonard series.
Hap and Leonard premieres this Wednesday, March 2, at 10 p.m. on SundanceTV. Check out the exclusive video of Lansdale and Martin below, and for more about Hap and Leonard, watch the series' trailer, or visit SundanceTV's official site.
Set in the late 1980s, "Hap and Leonard" is a darkly comic swamp noir story of two best friends, one femme fatale, a crew of washed-up revolutionaries, a pair of murderous psycho-killers, some lost loot and the fuzz. Based on the novels by Joe R. Lansdale, the six-hour series event follows Hap Collins (James Purefoy), an East Texas white boy with a weakness for Southern women, and Leonard Pine (Michael Kenneth Williams), a gay, black Vietnam vet with a hot temper. When Hap's seductive ex-wife Trudy (Christina Hendricks) resurfaces with a deal they can't refuse, a simple get-rich-quick scheme snowballs into bloody mayhem. Chock full of eccentric characters, "Hap and Leonard" provides a country twist on the classic mystery thriller.
[Photo via SundanceTV]