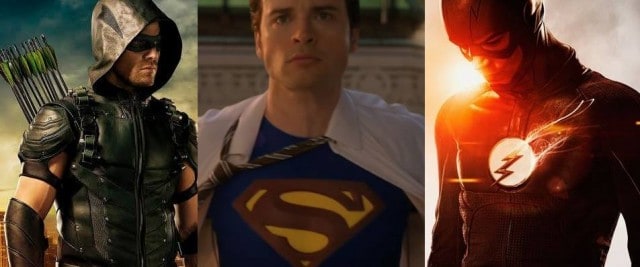 The superhero genre has been conquering the big as well as small screen over the past couple of years, and it's truly the golden age for comic book adventures coming to life. When it comes to television, which is what TVOvermind is all about, we have been witnessing some amazing comic book shows like Arrow, The Flash, Gotham, Agents of S.H.I.E.L.D., Agent Carter, and Daredevil, with more coming like Supergirl, DC's Legends of Tomorrow, and Jessica Jones just over the next couple of months. From a DC perspective, by January 2016, we will have a total of FIVE (six if you count iZombie, but that's more of a Vertigo property) DC comic book shows. How insane is that? And it all started with Arrow, which has opened up the bigger DC TV Universe.
However, in many ways, there is one show that truly paved the way for all comic book series that we have today, and that show is Smallville. It was the 10-year long story about how Clark Kent (Tom Welling) became the world's greatest superhero known as Superman. On this exact day, 14 years ago, the series premiere of Smallville aired, and it instantly became one of the biggest hits for The WB (which would later merge with UPN to become The CW). Let's go back 10 years ago, when Smallville was the only true comic book show on air at that time. Yes, we had TV shows like Birds of Prey and No Ordinary Family, but as you may remember, those shows got cancelled after just one season. While Heroes was there for four years as a superhero-esque series, it never was able to achieve the success of Smallville.
Without going down the rabbit hole too much, there were a lot of times throughout Smallville's 10-year run when the series went into some weak directions, and just like any TV show in any genre, it had flaws. However, it also had a lot of strengths too, especially in the later years as Smallville started to turn more towards the direction of adding more DC Comics elements, bringing in a lot of cool DC heroes and villains. Season 8 is where Smallville really began to show Clark adopting his heroic persona while also staying under the radar. Even prior to that phase of the show, Smallville had also incorporated the element of not just telling the story of Clark Kent, but so many important people in his life and their stories. Characters like Lois Lane, Lana Lang, Martha and Jonathan Kent, ad Lex Luthor were major figures in the series, and the show also brought new faces into the mythology, like Chloe Sullivan and Tess Mercer, who were just as important characters as Clark was.
Some of the most memorable hours from those three final seasons of Smallville were the episodes that Chief Creative Officer Geoff Johns (executive producer on The Flash as well as involved in other capacity with Arrow, Gotham, Supergirl, and Legends of Tomorrow) wrote, such as "Legion," "Absolute Justice," and "Booster." Not only did it help make Clark take those greater steps towards finding that balance between the mild-mannered reporter and the Man of Steel, but it started to become clear that DC adventures was something that viewers were eager to see more of. Smallville was a true testament that there was an audience for stories like this, viewers that wanted to watch DC characters come to life and spend time with them every week. Let's remember that before the massive comic book explosion in the media happened back during 2008, the superhero genre hadn't expanded that much beyond the pages of the comics. Thanks to Smallville, networks and executives saw that the comic book genre is worth investing in.
From a personal perspective, Smallville was the first TV show that I became really passionate about and followed every single week. When it ended, who knew if we would ever get a show like Smallville again or if that was maybe the beginning of a long time without any DC TV properties around? Luckily, we were proven wrong as in October 2012, when Arrow debuted on The CW, and the superhero TV craze has only grown from there. So yes, while Arrow is responsible for helping usher in more DC television shows (and maybe even comic book shows in general, even from Marvel), Smallville should never be forgotten for all the work it did as well. As I mentioned earlier, like any TV show (past, present and even future), Smallville had its flaws and wasn't always perfect, but it absolutely had an impact on the current age of comic book TV.
As the great Jonathan Kent said in the series finale to Clark as he took it to the skies and fulfilled his destiny: Always hold on to Smallville. I couldn't agree more, Pa Kent.
Happy 14th birthday, Smallville!
[Photos via The CW and Warner Bros. TV]