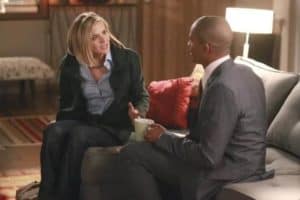 Happy Endings returns from its midseason hiatus on January 4 and Megan Mullally will be making another guest appearance very soon. ABC has released the descriptions for two upcoming episodes.
January 4, Episode 2.10 "The Shrink, the Dare, Her Date and Her Brother": Dave has an odd reaction when his shrink (guest star Ken Marino) starts dating Penny. Meanwhile, Jane and Max fight over ownership of a sweater and end up in another one of their strange competitions; whoever is "less vain" gets to keep the sweater, and the challenge is to see who can wear a horribly unflattering outfit the longest. And Jane urges Brad and Alex to try and "bond," but it's awkward — until they discover their mutual love of romantic comedies.
January 11, Episode 2.11 'Meet the Parrots': Dave's father, 'Big'Dave (Michael McKean), comes to town to introduce his new girlfriend, who shockingly happens to be Penny's mother, Dana (Megan Mullally). Penny couldn't be more thrilled that her thrice divorced mother has a new man in her life, but Dave on the other hand reacts childishly to the news. Meanwhile Alex, who is feeling lonely at the shop, decides to adopt an adorable parrot that turns out to be not so charming, spewing nonstop racist and homophobic rhetoric. And Alex enlists Brad and Max's help, as she is convinced the Chinese restaurant next door is a front for a brothel.
Watch two sneak peeks below for the January 4 episode of Happy Endings, beginning at 9:31 p.m. ET on ABC.