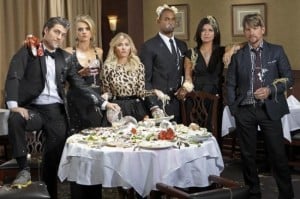 The most ah-mah-zing comedy on TV finally makes its return March 29 at 8 PM ET with two back-to-back episodes.
In the first episode, "In the Heat of the Noche," the gang helps Brad prop up the gym after the owner tells him it may be closing; Penny and Max turn to cough medicine to help them break their texting habits. In the second episode, "The Straight Dope," Max pretends to be straight to date a Bulls season ticket holder; Alex becomes well-read and throws off the group dynamic.
I'm glad that the promo is telling fans that they can save Happy Endings by watching it when it finally returns next week, but frankly where was this kind of promotion when Happy Endings was previously on the air earlier this year and late last year.
We all know that Happy Endings was a bubble show for ABC from the get go, but when the alphabet network renewed the show for a second season, I honestly thought that the powers that be liked the show was giving it the ability to find its voice and establish a loyal fan base.
But constant changes in air times and air dates gave fans the impression that didn't know what to do with Happy Endings or could care less about promoting it.
Thankfully the show is not longer being held hostage and fans will finally get to see what's next for the newly engaged Penny and the rest of the gang. However, it does suck that Happy Endings triumphant return is a) on a Friday and b) during CBS' ratings juggernaut March Madness.
Watch the promo posted below and read the episode synopsis of the what fans will get to see when Happy Endings returns Friday, March 29 at 8PM ET.
http://youtu.be/-lLjLPRYwKA