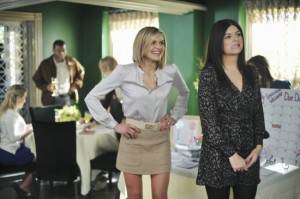 It looks like there'll be another year of Penny (suck it, taxpayers!) for Happy Endings, as the hyperactive ensemble comedy has been renewed by ABC. The show will be back for another 22 episodes thanks to its critical praise, watercooler buzz, and solid performance behind Modern Family.
The only question now is where to air the show. Given its 22 episode order, it's more likely to be on the fall schedule and something like (currently unrenewed) Don't Trust the B in Apt. 23 seems like the most logical companion. They're both loud, weird, in-your-face comedies that, tonally, don't fit with ABC's single-cam family laughers; but is either strong enough to lead off an hour? Both Happy Endings and Don't Trust the B held up alright following Modern Family repeats, so moving them to a slightly less competitive night and pairing them up could solidify their success.
Happy Endings debuted at the very end of last season, doubling up episodes behind Cougar Town. It may not have broken out then, but ABC gave it a surprise renewal and a plum timeslot to expose it to as many viewers as possible. The show's quality grew with its ratings, going from good and promising to pretty good and oftentimes great during its second season. In the second season finale, Dave and Alex reconnected at Derrick's wedding, though Dave and Penny had a bit of a moment as well. Could it have been the occasion or will Dave give a third season romance a go with either his ex or his good friend?
Currently waiting news on their fate are Don't Trust the B, GCB, Scandal, Body of Proof, Last Man Standing, and Private Practice, with shows like The River, Pan Am, and Missing presumed cancelled.
Are you ready for more Happy Endings? Which other ABC comedy would you like to see it paired with next? Who's your favorite member of the group?