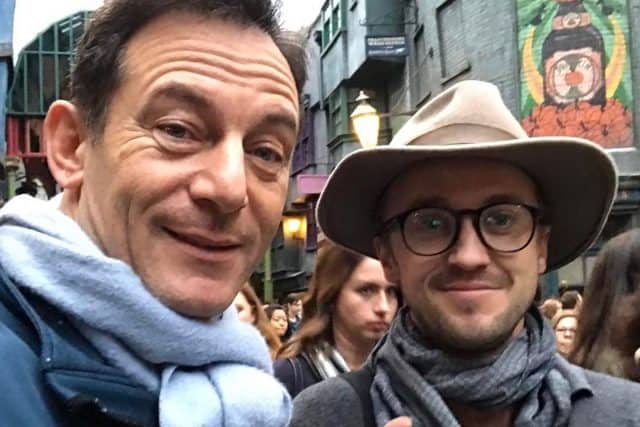 It was a reunion that even surprised J.K. Rowling.  P.S. what's with all the Harry Potter news this week?  First off, Tom Felton was captured in adorable video that went viral with a fan.  Harry Potter merchandise seems to be on the rise.  What is going on here?  The latest?  According to EW:
Jason Isaacs recently paid a visit to the Wizarding World of Harry Potter at the Universal Orlando Resort in Florida and reunited with Tom Felton, who played his onscreen son Draco Malfoy, and Matthew Lewis, who portrayed Neville Longbottom.
The actors appeared at a panel during a Universal Studios celebration of Harry Potter.  Isaacs was addressing specific themes in the movies as well as Malfoy's hateful views as they relate the world today.
"There is a very recognizable racist and supremacist [in Lucius Malfoy], acting out of fear and thinking that the past was a better time," he said. "And scared of Muggles and scared of the future because it feels like his place was some time ago, when he was part of the super-elite who could look down on the rest of the world. You don't need to look too far to find many politicians standing on those platforms. Those issues are never more relevant than today, [but] they are dealt with in this kind of magical world."
Isaacs is currently starring in the Netflix series The OA.  Needless to say the reunion has gotten quite a reaction online.  Even the Harry Potter creator J.K. Rowling wrote about it on Twitter.  Could this mean more Harry Potter?  Doubtful but let's hope so.
Here are the photos below:
Me, @TomFelton & @Mattdavelewis marvel at them getting older as I get younger. 💘 to all the Potter fans who remind us to fight for the light pic.twitter.com/9qaKnPr64T

– Jason Isaacs (@jasonsfolly) January 30, 2017