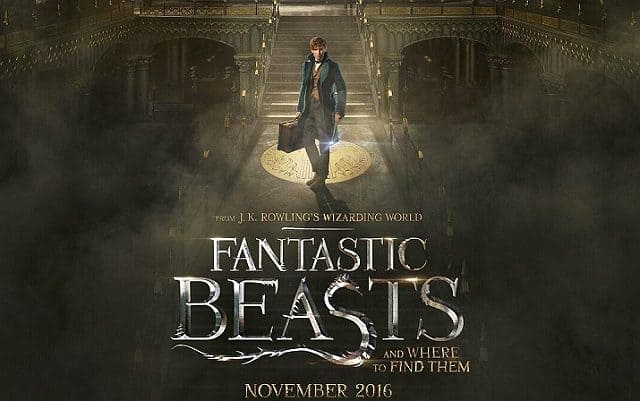 Harry Potter fans have been over the moon about the upcoming prequel Fantastic Beasts and Where to Find Them.  It already has Eddie Redmayne, Katherine Waterston, Ezra Miller, Colin Farrell and Alison Sudol.  Like, this is an awesome cast.  However, The Hollywood Reporter just revealed the addition of Zoe Kravitz! Things just went to a whole new level of fantastic!
Why is this so great? Just look at her work in X-Men:First Class, Mad Max, Fury Road and the Divergent series. She's a natural for this new magical realm and adds a fierce coolness to everything! If you don't already know what the "everything" is, here's the plot of the Harry Potter prequel in a nutshell:
Fantastic Beasts and Where to Find Them takes place in New York City starting in 1926 – so about 70 years ahead of Harry Potter's time.  Author J.K. Rollings neatly says it's "the adventures of Newt Scamander in 1926."  Newt, a  "Magizoologist"(played by Redmayne) is the man who wrote the textbook on Magical Creatures that is referred to all the time in the Harry Potter series. This is what she says when first describing Newt and the new film:
'My heroes are always people who feel themselves to be set apart, stigmatised or othered,' said J.K. Rowling. 'That's at the heart of most of what I write, and it's certainly at the heart of this movie.'
The film isn't just about Newt though.  As this trailer sets up, the story also is about the wizarding world New York City and the ways it differs from that in England.
[youtube https://www.youtube.com/watch?v=hzGiYevAADQ?rel=0]
This wizarding society definitely has a different feel to the group at Hogwarts!
Now, about this story.  Is it me, or does bringing a suitcase full of dangerous magical creatures just seem like asking for trouble? Yet, Albert Dumbledore supported him, just like he did Harry Potter…. Newt is going to be an interesting person to get to know.
I say this because Newt is said to be the hero.  Yet,  a look at the Comic-Con trailer makes it clear that while a few of these "Fantastic Beasts" may be cute and cuddly, most of them are dangerous and terrifying!
[youtube https://www.youtube.com/watch?v=YdgQj7xcDJo]
Yeah….this film is going to have to do a lot of work to convince me that Newt isn't crazy for bringing those things over!  Yet, that also makes him a more complex character.  I really do want to know what the heck was he thinking!
Still, with these kind of horrible monsters around, having someone with Kravitz's experience on set can only enhance this franchise.  She knows the ins and outs of playing a person with powers and being both sweet and bad*ss.  They need someone like that.  Not to mention she totally lights up the screen.  There's a reason she keeps getting cast as these "magical" people. She got a truly bewitching look!
From what we've seen in the trailers, I suspect Kravitz may be related to the head of the New York Wizarding society.  Just casting-wise it looks like a good match.  Kravitz is said to only have a small role in this film, but it's likely to be expanded in the sequel. (Yes, there's already a sequel. It's set for November 16, 2018!).  Now there's even more reasons to be thrilled!