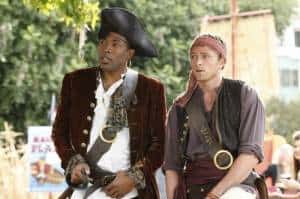 Bluebell celebrated Homecoming in this week's episode of Hart of Dixie. Wade and George's high school arch nemesis, Jimmy, returned to town for the game and the boys were eager to prank him. George decided to invite Lemon to participate in the prank, since she used to be the queen of pranks when they were younger. When the prank went wrong and Jimmy slipped and knocked himself out, the trio brought him to Zoe for medical attention. When he woke up he ended up reconciling with the guys, admiring their prank against him.
Lavon was roped into coaching the local high school football team when the coach got sick. He asked Zoe to help plan his annual Homecoming party while he was busy coaching. Zoe's friend Gigi came to Bluebell to help her friend plan the event, but she transplanted New York City to Alabama and the townspeople were not very happy about the event.
Thanksgiving comes to Bluebell in the November 28 episode of Hart of Dixie. But the good townsfolk have put a twist on the annual holiday. They've combined pirates with Thanksgiving to create "Planksgiving". While the town is getting ready for the celebration, Zoe is anxious to head back to New York for the Holiday. But when Zoe finds out that she has to meet her 30% patient quota by midnight or forfeit the practice, she is forced to stay behind. Lavon tries to convince Wade that he should tell Zoe how he feels about her. George's father also makes a return appearance and offers his son a job at his law firm in Montgomery. But Lemon isn't very happy about the job offer.
Watch a trailer below for the November 28 episode of Hart of Dixe.