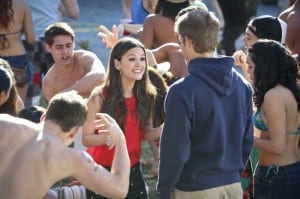 Mayor Lavon Hayes loves BlueBell so much that he won't let any other town come before it – when he can help it. After putting a stop to the shopping mall construction and creating a strong tourism commercial about the town's strawberries this season on Hart of Dixie, Mayor Hayes has more than proved himself as being a politician that does what he promises and puts his constituents before himself. What would be the next thing on his list of ways to help bring revenue to BlueBell?
On the April 9th episode of Hart of Dixie, Lavon wants BlueBell to become a premiere Spring Break location for collegiate students near and far. However, there's a neighboring town that is angling for the same audience, so he teams up with Ruby to create a competition that will draw attention and bring people back to town this time every year. While Lavon's first priority is what's best for BlueBell, working with Ruby will be a challenge after the way they ended things earlier this season; putting together the competition will be a way for him to test just how over her he actually is and whether or not he's ready to call her a friend just yet.
Elsewhere on Hart of Dixie, Zoe spends a little time with Jonah and inadvertently makes George jealous in the process, while Lemon and Wade team up to try and win Lavon's competition so they can buy the Rammer Jammer and Brick's odd behavior forces his loved ones to make him seek medical treatment.
Hart of Dixie airs Tuesdays at 8:00 on The CW. Be sure to click the link below to view photos from the first episode back from hiatus.
Will Wade and Lemon win the contest and buy the Rammer Jammer? Does George have a right to be jealous of Zoe having a good time with Jonah? What could be wrong with Brick?
http://www.youtube.com/watch?v=_cHDQmYcL80