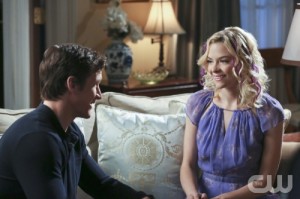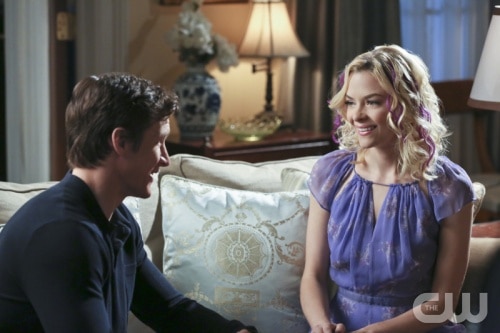 Lemon Breeland 2.0 (or 1.5, depending on who you ask) has been one of the highlights of this season of Hart of Dixie. For the entirety of last season, her role was to be George's gatekeeper, boss around the Belles, and clash with Zoe, eventually becoming her primary adversary. However, after the breakup with George, Lemon made a pretty unexpected (but nonetheless refreshing) move in taking a step back and deciding not to be vindictive and not to willow in the Alabama heat; her dream life might not have worked out, but that doesn't mean that her actual life has ended. But what happens when she gets confronted by the trauma that made her mature…at a BlueBell wedding?
Listed below are the dates, titles, and descriptions for the next two episodes of Hart of Dixie.
Tuesday, February 19th – "The Gambler"
Wade (Wilson Bethel) is excited to compete in the Battle of The Bands competition so he can use the prize money to open up his own bar, but Zoe's (Rachel Bilson) suggestion that George (Scott Porter) play in the band ultimately backfires. Lemon (Jaime King) finds herself alone for the weekend until she talks Magnolia (guest star Claudia Lee) into some sisterly bonding. Meanwhile, Lavon (Cress Williams), who has seemingly given up on love, agrees to help Tom (guest star Ross Philips) with his relationship, which in turn opens his eyes to his own future.
Tuesday, February 26th – "Where I Lead Me"
With the sudden nuptials of Wanda (guest star Mallory Moye) and Tom in BlueBell, Zoe agrees to be maid of honor, which entails the difficult job of watching Wanda's crafty mother. Zoe uses her wedding duties to try to avoid the awkwardness between her and Wade, but has a feeling something is wrong. Lemon faces the memory of being left at the altar and decides to take matters into her own hands. Meanwhile, Lavon hears about the neighboring town trying to build a shopping mall next to their local beach and he enlists George's help to fight it, but an unexpected side of George rears its ugly head.
Hart of Dixie airs Tuesdays at 8:00 on The CW.
How will Lemon handle being at a wedding? What's wrong with Zoe and Wade (this time)? Will Lavon keep the shopping mall from being built?