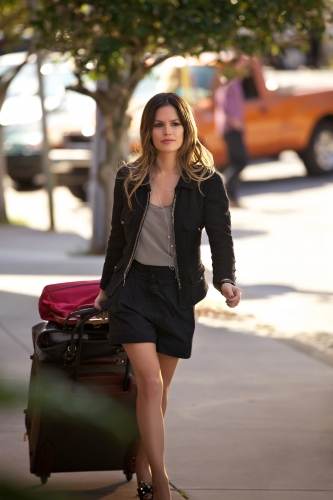 I have always liked Rachel Bilson. Back in The O.C. (2003-2007), her character, Summer Roberts, was my absolute favorite along with Adam Brody's Seth Cohen. After O.C. ended, however, Bilson seemed to take a break from television and focused more on the big screen. So when I heard she was returning to TV as the leading lady of a brand new show, I had no choice, but to check it out.
I admit the only encouragement for me to watch Hart of Dixie, at first, was Rachel Bilson. I am usually not into the kind of shows The CW produces, but I thought I had nothing to lose if I gave it a shot. I confess I wasn't particularly excited about it when I started watching it, but I didn't even notice as those 42 minutes flew by. Hart of Dixie is a funny, heartwarming and engaging show. The characters are interesting and the premise (although it has been done a million times before), actually works.
So here is what Hart of Dixie is all about. Dr. Zoe Hart is a true New Yorker, who absolutely loves her city and thinks The Big Apple is the best place in the whole wide world. As soon as she graduates from medical school, she already had the rest of her life meticulously planned out. She was going to do her surgical residency and then she would get the cardiothoracic fellowship and be a kickass surgeon, just like her daddy. Everything seems to be going swimmingly for her when suddenly her boyfriend dumps her, claiming she has no feelings. Then she doesn't get the fellowship she wanted so much. Why, you ask? She doesn't see her patients as people, just as puzzles that need solving. Her boss tells her she should be a general practicioner for a year and then come back and try for the fellowship again.
Heartbroken, she decides to finally take the job some guy from Bluebell, Alabama, has been offering her ever since she graduated. She doesn't know who he is and when she gets there, she finds out he died months before and left his practice to her. Weird, but she has no job and decides she has nothing to lose. The thing is, she is a big city girl stuck in a teeny, tiny town and she just doesn't fit in. At all.
It all sounds very clichéd, I know. But the writing, the acting, the cinematography, they make it work. I am going to be honest. At first, it feels like we are watching a grown up version of Summer Roberts, but Dr. Zoe Hart fleshes out as the episode goes on. The show has a kind of Gilmore Girls vibe to it, which just makes the whole story a whole lot more endearing. I am definitely sticking around for a few episodes to see where they take this.
It seems to be off to a good start, though. B+.
Don't forget to check out the sneak peeks and promotional photos for the premiere tomorrow night. Hart of Dixie is scheduled to air tomorrow, September 26th, at 9/8C on The CW.

[imagebrowser id=1146 template = flipped]