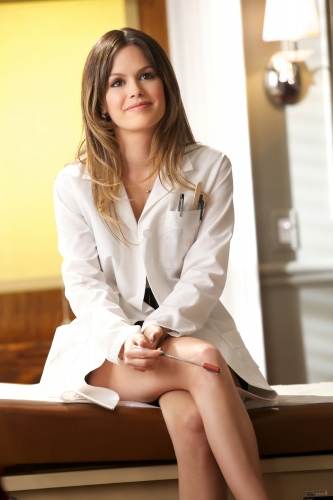 Today The CW released its 2011-2012 schedule (view it here), and Hart of Dixie will be airing on Monday nights at 9:00 p.m.
Zoe Hart (played by Bilson) is a new, fast-talking New York doctor. She wants to become a cardio-thoracic surgeon like her father after graduating at the top of her class from medical school. But things don't work out like she planned, and she decides to accept a job offer from a Dr. Harley Wilkes (in Bluebell, Alabama) instead.
But when Zoe arrives in Bluebell, she learns that Harley has passed away and left his half of the medical practice to her. The only other doctor in town, Brick Breeland, isn't happy to be sharing the medical practice with an outsider. His daughter, Lemon, is also hostile to Zoe. But a few people warm up to the new girl, including the mayor, former football star Lavon Hayes, her neighbor Wade Kinsella and lawyer George Tucker. Only George is also Lemon's fiance, so that makes Lemon hate her even more.
Zoe wants nothing more to leave, but decides to stay in Bluebell after a visit from her snobby mother. Other stars of the series include: Jamie King as Lemon Breeland, Wilson Bethel as Wade Kinsella, Cress Williams as Lavon Hayes, McKaley Miller as Rose and Scott Porter as George Tucker.
Below are the first promo photos from this new series. The premiere date of Hart of Dixie should be released later in the summer.
[imagebrowser id=1038 template = flipped]
clarissa @ tvovermind.com
twitter.com/clarissa373
twitter.com/tvovermind