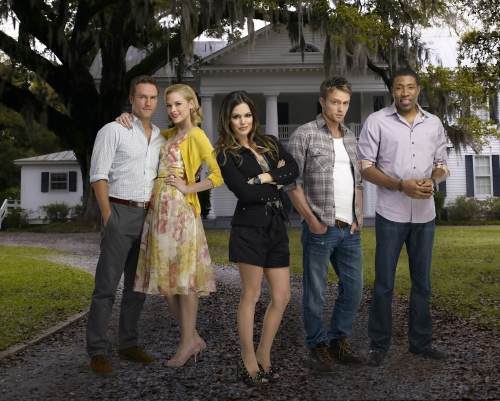 Hart of Dixie is being produced by Gossip Girl and The O.C. producers Josh Schwartz and Stephanie Savage. Schwartz recently commented that this show is like a throwback to the WB dramas of the old days: Felicity, Gilmore Girls and Everwood.
Rachel Bilson stars as Zoe, a new and driven medical student. Zoe wants to follow in her father's footsteps and become a cardio-thoracic surgeon after graduation. While she's at the top of her class, something goes awry after graduation, and all of her plans get derailed. She decides to accept a job offer by a mysterious Dr. Harley Wilkes, who lives in Bluebell, Alabama.
But when Zoe arrives in Bluebell, she learns that Wilkes has died and left his half of the medical practice to her. Not everyone in Bluebell greets her warmly, including her new partner Dr. Brick Breeland and his daughter, Lemon Breeland (played by Jamie King). She does manage to make a few friends, including a former football star named Lavon Hayes (played by Cress Williams) and a handsome lawyer named George Tucker (played by Scott Porter), who just so happens to be Lemon's fiance.
It's not until Zoe's snobby New York mother visits her in Bluebell that she realizes she wants to stay in town and give her new life a chance.
We've already posted a few promo photos for Hart of Dixie (view them here) and now The CW has released the first trailer for this new show (view it below).
Hart of Dixie will be airing on The CW on Monday nights at 9:00 p.m. (after Gossip Girl). You can view the full 2011-2012 CW schedule here.
clarissa @ tvovermind.com
twitter.com/clarissa373
twitter.com/tvovermind